My hands are murder-red. Many a plump head
drops on the heap in the basket . . .


The Literary Estate of May Swenson granted us permission to share this wonderful poem only for a brief time.
To read the rest of it--and it's a poem you don't want to miss!--we encourage you to visit your local library,
or purchase one of the books in which this poem appears: In Other Words (Knopf,1987),
or The Complete Love Poems of May Swenson (Mariner Books, 2003).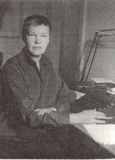 May Swenson (1913 - 1989) was born in Logan, Utah, and died in Ocean View, Delaware. She lived her life all across America, working as a newspaper reporter, ghostwriter, editor, secretary, manuscript reader, and poet-in-residence at numerous colleges. Eleven volumes of her poetry were published during her lifetime. These earned much praise and many awards, including a MacArthur Fellowship. May's poetry is best known for its sensual descriptions, lyrical flow, and detailed celebrations of nature. Learn more about her at www.mayswensonsociety.org.
KevinArnold:
Yes, detailed clelbrations of nature: "A crop this thick begs for plunder. Ripeness / wants to be ravished, as udders of cows when hard, / the blue-veined bags distended, ache to be stripped."
Posted 06/22/2011 12:51 PM
Purple Garden:
I'm salivating.
Posted 06/22/2011 11:30 AM
Carol Hauer:
Just beautiful.
Posted 06/22/2011 09:43 AM