Ten years ago, after the first night
we spent together,
we went to pick strawberries
knee-deep in furrows of scalloped leaves,
white flowers winking like stars.
Itís still early morning
but weíre drunk on the winy air
and the headiness of our desire.
As we kissed more than we picked,
our mouths brushed like petals
rubbing in the wind,
our crimson fingers strayed
beyond the boundaries of clothing.
Stitch us in that tapestry forever,
baskets full of berries, and always in love . . . .
But we had to go home,
turn the fresh fruit into preserves:
hull and cull the berries, crush them
with lemon, boil until thick
and sweet with yearning and sun.
Sealed in wax, each jarís stained glass,
full of the light.
And when we spread this redness
on morning toast, sparks
rekindle and glow.

And now itís ten years later.
Strawberry pickingís an annual
task I do alone, or with a friend.
I boil the jam down to the clatter
of children underfoot.
And our eyes meet over curly heads
and our hands brush like green leaves in the wind . . . .
And the jam shines in its cathedral of wax,
the sweetness of early June
poured in glass jars.
On January mornings,
when love & light are memories,
these red suns
light our cellar shelf.†

This poem first appeared in West Branch and was included in Starting From Zero (Great Elm Press and Foothills Publishing) and Obbligato (Linwood Publishers).
Used here with the authorís permission.
†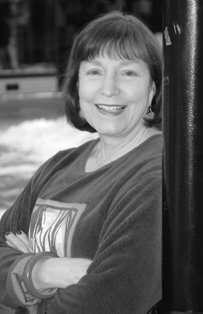 †
The author of more than 600 poems published in nearly 2000 anthologies, books, and magazines, Barbara Crooker is the recipient of numerous awards, residencies, and fellowships. A twenty-six time nominee for the Pushcart Prize, she is the author of ten chapbooks and†three full-length books, including Line Dance, which won the 2009 Paterson Award for Literary Excellence, and her latest collection, More. Barbara credits her achievements to perseverance as much as talent, and says, ?Writing poetry is not putting down whatever comes into your head, and leaving it at that, never taking it any further. Poetry involves layers, and a lot of revision.Ē Read more about her at www.barbaracrooker.com.
†
dianapoet:
Love and strawberries, beautifully said.
Posted 06/24/2011 08:00 PM
Jo:
The ripe strawberries, the preserves. What a unique way to show the wonders of an old love--there is a song by folk singers, Neil and Leander called Old Love. Your poem reminds me of that song that the audience calls for on nearly every performance they give. Thank you for sharing your anniversary in such a special way.
Posted 06/24/2011 12:03 PM
Ginny C.:
Perfect. So much contained in a jar of strawberry preserves.
Posted 06/24/2011 10:52 AM
KevinArnold:
Ah, yes. Barbara gets directly into her subject and turns us every way but loose. Thank you.
Posted 06/24/2011 08:43 AM
jeanie:
mmmmmmmmm!!! sweet (and bittersweet). thank you!
Posted 06/24/2011 08:13 AM
Carol Hauer:
Everything about this is luscious. Yum.
Posted 06/24/2011 08:00 AM
LRL:
Stitch us in that tapestry forever,,, thank you!
Posted 06/24/2011 06:55 AM
dotief@comcast.net:
Marvelous!
Posted 06/24/2011 06:50 AM
Eiken:
Barbara, This is just beautiful, I loved it, full of you love wrapped up in that wonderful jam, a joy to start my day, thank you:)) Maire
Posted 06/24/2011 05:02 AM
Katrina:
I love the 'stained glass' followed by cathedrals. There is something bittersweet in the word 'stained'. I can smell the strawberries and was wondering whether all the senses are entertained but concluded that five (or more) separate senses are an artificial division, which the majesty of the strawberry transcends.
Posted 06/24/2011 04:18 AM