In a childhood of hats—
my uncles in homburgs and derbies,
Fred Astaire in high black silk,
the yarmulke my grandfather wore
like the palm of a hand
cradling the back of his head—
only my father went hatless,
even in winter.

And in the spring,
when a turban of leaves appeared
on every tree, the Hat Lady came
with a fan of pins in her mouth
and pins in her sleeves,
the Hat Lady came—
that Saint Sebastian of pins,
to measure my mother's head.

I remember a hat of dove gray felt
that settled like a bird
on the nest of my mother's hair.
I remember a pillbox that tilted
over one eye—pure Myrna Loy,
and a navy straw with cherries caught
at the brim that seem real enough
for a child to have to pick.

Last year when the chemicals
took my mother's hair, she wrapped
a towel around her head. And the Hat Lady came,
a bracelet of needles on each arm,
and led her to a place
where my father and grandfather waited,
head to bare head, and Death
winked at her and tipped his cap.


From Heroes in Disguise (W.W. Norton & Co., 1991)
Used with the author's permission.
?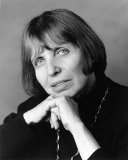 Linda Pastan grew up in New York City, graduated from Radcliffe College, and received an MA from Brandeis University. She has published 13 volumes of poetry, two of which have been finalists for the National Book Award; her newest is Traveling Light (W. W. Norton). Linda's poems have appeared in many journals, including The Atlantic Monthly, The New Yorker, The Nation, and The Georgia Review. She has been Poet Laureate of Maryland, and in 2003 won the Ruth Lilly Poetry Prize for lifetime achievement. Linda lives with her husband in Potomac, Maryland; they have three children and seven grandchildren.
DavidFraser:
This is a wonderful poem. Surprised me at the end.
Posted 06/25/2011 07:41 PM
LindaCrosfield:
A Hat Lady...so much better than the scythe-packing image Death is often given. Beautiful piece.
Posted 06/25/2011 11:55 AM
wendy morton:
What a brillaint metaphor for death. Aren't we all waiting for the Hat Lady to come with a bracelet of needles of needles on each arm?
Posted 06/25/2011 10:48 AM
tannerlynne:
OH !!! My mother had Mr. Roselli who nipped and tuck suits just right and a hat lady with bracelettes of pins! and yes Cherries and feathers... and what a beautiful way to write about your mother's death.
Posted 06/25/2011 06:08 AM