I will grow a garden
full of gardenias

in gratitude
for days
gone by

not gray days
but green and gold
days of summer

gone fishing days
no need for galoshes days
days that fill
a gorge
with wishes granted.

From in gratitude for days gone by, copyright 2010 by Gail Goepfert.
Used with the author's permission.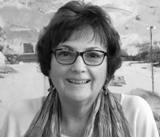 Gail Goepfert is a poet, amateur photographer, and teacher. Currently, she is an associate editor of RHINO Poetry. Her first chapbook, A Mind on Pain, was released by Finishing Line Press early in 2015, and her poetry and photos appear in numerous print and online publications. Gail lives in the Chicagoland area. Learn more about her at gailgoepfert.com.
mukwonagosusan:
Thanks, Gail, for the picture and the word picture and story. Beautiful!
Posted 07/09/2011 07:46 PM
dianapoet:
Beautiful
Posted 07/09/2011 11:02 AM
Eiken:
Gail, light and fresh and love the sparseness of words, so effective. Beautiful flower, a fine tribute:) Maire in Ireland.
Posted 07/07/2011 05:57 PM
KevinArnold:
Brevity is the soul not only of humor. Fine work.
Posted 07/07/2011 12:01 PM
Jo:
I am so glad you shared the gardenias, even happier that I have your wonderful photos and poems in the book beside me. Thank you for the heady scent of gardenias even now opening all my senses.
Posted 07/07/2011 10:46 AM
Rob:
Gardenias are the first flowers I learned to recognize by scent :) Love the idea of "days that fill/a gorge/with wishes granted"!! Lovely poem, Gail!
Posted 07/07/2011 10:27 AM