Great is the sun, and wide he goes
Through empty heaven with repose;
And in the blue and glowing days
More thick than rain he showers his rays.

Though closer still the blinds we pull
To keep the shady parlour cool,
Yet he will find a chink or two
To slip his golden fingers through.

The dusty attic spider-clad
He, through the keyhole, maketh glad;
And through the broken edge of tiles
Into the laddered hay-loft smiles.

Meantime his golden face around
He bares to all the garden ground,
And sheds a warm and glittering look
Among the ivy's inmost nook.

Above the hills, along the blue,
Round the bright air with footing true,
To please the child, to paint the rose,
The gardener of the World, he goes.


This poem is in the public domain.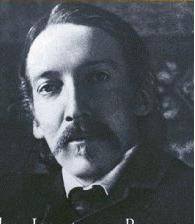 Scottish writer Robert Louis Stevenson (1850-1894) is, for many of us, the first poet to whom we were introduced, through his wonderful book, A Child's Garden of Verses. Though he came from a family of engineers and it was expected he would follow suit, Robert wrote stories even as a child; no one was really surprised when, three years into his engineering studies at the University of Edinburgh, he abandoned them to study writing. Always an avid traveller, despite lifelong poor health, Robert spent much of his life looking for a place to live that offered some respite from his illnesses. A prolific writer of poetry, fiction (Kidnapped, Treasure Island, and The Strange Case of Dr. Jekyll and Mr. Hide are his best known), travelogues, and political essays, he is properly revered today as a major literary figure, although in the early twentieth century, he was temporarily dismissed and disdained as "a children's author." Ultimately, Robert ending up living in Samoa, happy and productive until a stroke abruptly ended his life at the age of 44. 
bfaybooks:
More thick than rain he showers his rays Now there's something to think about! Very fun poem - thanks for using it today.
Posted 07/08/2011 10:26 AM
KevinArnold:
Such verbal dexterity: Yet he will find a chink or two To slip his golden fingers through.
Posted 07/08/2011 08:27 AM