A shaft of sunshine
streams through magnolia clouds
glides over a sleepy village
streaks shadows on patchwork meadows
and warms textured straw bales
wrapped in harvest light. 
Milk laden cows 
graze clover fields
as sheep stud the hillside. 
Sprinting brambles 
prickle wild hedgerows
swollen with purple fleshy fruits.

Song birds bolt
from beech to sycamore
humming melodies
blossoming the breeze
on a lily light afternoon.
© by Máire Morrissey-Cummins.
Used with the author's permission.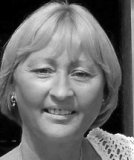 Maire (pronounced Moira) Morrissey-Cummins is a native of Ireland who lived in Holland and Germany for many years due to her husband's work. Recently retired from a financial career, she's now back in County Wicklow, the "garden of Ireland," and has adopted writing, painting, and gardening as her new interests. Wicklow's beautiful waterside setting is providing much inspiration ("I can see the sea from my bedroom window," says Maire) for this mother of two who has garnered numerous publication credits already, in both journals and anthologies.
Jo:
Your lovely poem made the Irish countryside come back so vividly, beautifully. I lived it again today in your poem.
Posted 07/09/2011 06:50 PM
Rachael Stanley:
This poem sings of the joy of all created things and the beauty of the natural world. A joy to read. Rachael Stanley
Posted 07/09/2011 04:35 PM
Eiken:
To everyone who left a comment, my heartfelt thanks and to Jayne, the Editor of his wonderful daily poem website, thank you for choosing one of my poems, I appreciate it. Maire x
Posted 07/09/2011 03:05 PM
Susanna Dunne:
A wanderful Haiku Maire enriched with the beauty of nature and all things very grand. A perfect picture Maire I really enjoyed reading Your fabulous poem. A Lilly Light Afternoon.
Posted 07/09/2011 02:05 PM
Rachel:
Well done you! Beautiful words creating gorgeous images :) (Need some emoticoms here lol) Rachel
Posted 07/09/2011 11:01 AM
Carol Hauer:
So rich in luscious imagery. I am satiated with the drowsy beauty of your summer day. I'd like to stay there for a long time.
Posted 07/09/2011 10:10 AM
Helen Simcox:
Uplifting and beautiful, your appreciation of nature shines through.
Posted 07/09/2011 10:04 AM
Rob:
Evokes a sense of peace and beauty! Makes me want to visit Ireland again :)
Posted 07/09/2011 06:54 AM
EamonOC:
This beautiful feast of the sensual lifted me in heart and soul. Thank you.
Posted 07/09/2011 05:19 AM
BARBARA :
A rich and evocative poem about the countryside... A song of celebration for Irish rural abundance. Lovely one!
Posted 07/09/2011 05:07 AM
Buttercup:
A really beautiful and evocative poem Maire. I love it.
Posted 07/09/2011 05:03 AM