Thereís some things thatís wrong
Aní thereís some things thatís right
At least, thatís what I allus say
Aní when yíkin tell it
Aní choose whatís the right
Yer liviní the Cowboy Way

Yídonít cheat at cards
Yídonít steal a manís drink
Itís wrong tímake fun of a child
Yídonít stay a settiní
When ladies come in
Yídonít run around beiní wild

Itís wrong tíshoot game
Jist tísee if yíkin
Yídonít pass off a coin thatís a fake
Itís right tígive praise
When yísee somethiní good
To admit when youíve made a mistake

Yídonít sleep in church
Er sing hymns in a bar
Yídonít talk when another man is
Yídonít mistreat horses
Er laugh at a death
A Cowboy wonít take what ainít his

Itís right tíbe truthful
Tísay when yer wrong
Not put up yer gun lest yíclean it
Itís wrong tígit drunk
Aní tífight with a friend
Er be bad aní then say yídonít mean it

Yes, some things is wrong
Aní some things is right
Thatís what a real cowboy will say
Aní when yíkin tell it
Aní choose whatís the right
Yer liviní the Cowboy Way

†
From Cowboy Poems and Outright Lies (Copyright 2001 by Hal Swift).
Used with the authorís permission.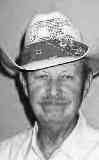 Hal Swift (1928 - 2016) was born in Speedway City, Indiana, on the 25th anniversary of the Wright brothers' flight at Kitty Hawk. When he was eight years old, his family moved to Phoenix, Arizona, where, as a teenager, Hal learned to play a bass fiddle. He worked with local cowboy musicians such as Marty Robbins, and played with the Phoenix Concert Orchestra. He went on to become a popular radio host and was inducted into the Nevada Broadcast Association Hall of Fame after a 50-year career. That career took a different direction, briefly, while Hal served in the U.S. Navy as a Morse code radio operator. Hal's diverse interests included martial arts, building model ships and airplanes, cartooning, semantics and, of course, writing. Learn more about him here.
There are no comments for this poem yet.