To boldly go . . .
It was a phrase I'd said
Every night as a child
With my head tilted upward
Toward the distant stars
But I find myself repeating it now
With amazement
And new appreciation
As I watch the flashing lights
On the display board
Slowly change from red to green
I imagine I can hear the hiss of escaping air
As the great hatch opens
Feel its rush upon my skin
Despite both readings and common sense which say
The enviro-suit's protective seal is still in place
And the sounds are just extraneous noise
From the oxygen pumps strapped to my back
Then as the view unfolds
The adrenaline hits
And I feel myself trembling
With that heady mix of excitement and fear
That precedes a journey into the unknown
A whole new universe lies
Outside that door
Beckoning me
Challenging me to seize the dream
And boldly go . . .
I have come so far
But I must grow
So gently, urgently
I push myself through the portal, and
With no tether left to hold me back
Take my first small step
Outside the cradle
The universe expands before me
Life can never be the same

From Telltale Signs (Bumbershoot, Inc. Press, ©2000 Miriam Ruff).
Used with the author's permission.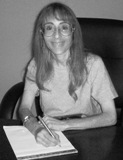 Miriam Ruff is a writer, editor, and teacher. Though she received her degree in Zoology, she quickly moved on to other pursuits; most notably, she spent several years in the film industry, eventually moving up to writing and producing short screenplays. She has also written and produced several full-cast audio dramas, which have played nationally on public radio. While she tackles all forms of writing, from corporate newsletters to educational material and newspaper articles, Miriam finds that writing short stories and poetry provide the most satisfying outlets for her imagination, as well as the most direct, and rewarding, connection with the reader. Author of three volumes of poetry, as well as a collection of short stories, her work has appeared in the Journal of Humanistic Psychology as well as in assorted newsletters, websites, and anthologies. Miriam lives in the Washington, D.C. area; learn more about her at www.bumbershootwriting.com.
mukwonagosusan:
I especially appreciate the line "So gently, urgently" because meeting growth with gentleness toward Self while at the same time not letting the opportunities whiz by is hard to do but the only way to meet life! Love this poem!
Posted 07/25/2011 10:48 AM
Carol Hauer:
Wow! So each of us can meet the challenge of our own "walks in space?" Great concept!
Posted 07/25/2011 08:53 AM