If Nosferatu were a gardener
he would raise beets
and beets alone,
fang-rooted Romanian blood bulbs,
vampire of vegetables.
Sucking redness from radish veins
leaving its innards colorless.
Rutabagas, potatoes, parsnips
are no match for its red-robbing wiles.
Only the longer rooted carrot
has managed through the centuries
to cleave to a bit of orangeness.
There is an eastern European wives tale
claiming that before the beet bit
you could get blood from a turnip.

Bubbling in a borscht bowl,
the beet could sustain our fabled count
through those long cold damselless nights.



This poem first appeared in Vampyr Verse (Popcorn Press, 2009) 
and Verse Wisconsin (Spring 2010).
Used here with the author's permission.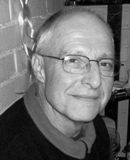 Ed Werstein is an employment counselor who assists Native American job seekers. His poetry has appeared in Verse Wisconsin, New Verse News, the Wisconsin Fellowship of Poets calendar, and a few other publications. Ed lives in Milwaukee, Wisconsin, is an avid handball player, and is a proud member of The Hartford Avenue Poets group.
Nancy Dymond:
Your poem sent chills up the wilted spines of my newly picked Swiss chard. In this oppressive heat all shivers are welcome. Fang you so much!
Posted 07/28/2011 08:22 PM
LindaCrosfield:
Clever indeed! Had some 'fang-rooted Romanian blood bulbs' for dinner only last night. I'll never eat 'em again without thinking of your poem, Ed.
Posted 07/28/2011 09:44 AM
Janet Leahy:
This "Vampire of Vegetables" looks so innocent on the salad bar! Clever poem, thanks Ed.
Posted 07/28/2011 07:54 AM