My children spill from the car like herrings 
sluiced from a bucket, sheened from back-seat heat.
I school across road these shiny fingerlings
and plant in the sand their water-pale feet.
I peel off coral culottes, yellow tops;
squealing merfolk, their sturdy arms raised
float and sway like anemone on rocks.
Freed, they run naked to sea's lick, and wave 
while I sink to towel, bones like ice cream
under sun. In the café kitchens, blue
mussels scrubbed of their anchoring threads, brim
tin pails. I scan for points of my heart's hue—
     like Seurat's bather, they cup hand to mouth,
     into the luminous silence, they shout.
From Good Holding Ground (Palimpsest Press, 2011).
This poem first appeared in The Antigonish Review (Vol 39 No 154).
Used here with the author's permission.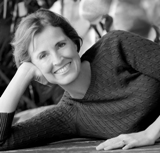 Cynthia Woodman Kerkham was born in Toronto and raised in Hong Kong and Vancouver. She has a degree in Asian Studies and English literature and has worked as an au pair (in France), a potter, a journalist, and a teacher. Cynthia's poems have appeared in many literary journals; in 2009, she won the Federation of BC Writers Literary Writes Competition and, in 2011, the Malahat Review's Open Season Award for poetry. Good Holding Ground, her debut collection of poems, was published in 2011 by Palimpsest Press.When not sailing the west coast, Cynthia lives with her family in Victoria in a constant state of renovation.
Ariel Gordon:
Very very nice!
Posted 08/10/2011 12:33 PM
Karen Chester:
oh my ... I think it perfect
Posted 07/31/2011 02:13 AM
jpaul:
Summer in a sonnet. Beautiful.
Posted 07/29/2011 09:23 PM
Grace Cockburn:
Exquisite poem, Cynthia. Beautiful fingerlings!
Posted 07/29/2011 11:15 AM
Glen Sorestad:
A beautifully crafted sonnet with some startling images, my favorite being the children as herring sluiced from a bucket. Thanks for this, Jayne and Cynthia.
Posted 07/29/2011 10:22 AM
Gail Goepfert:
I'm there, I want to be there. "bones like ice cream under sun" Love that line!
Posted 07/29/2011 09:29 AM
wendy morton:
Such beautiful images, all this colour and magic. A painting of a poem.
Posted 07/29/2011 09:06 AM
jeanie:
absolutely gorgeous poem!
Posted 07/29/2011 07:23 AM