Having been gifted
with girls you were then
blessed with boys
and then came
the miracle twins
and the stray terrier
the runaway cat
and the teen godchild
whom you harbored
out of the goodness
of your heart
not to mention
your significant other
your down-and-out-brother
and an elderly mother-in-law upstairs
the out-of-town guest
and the kids next door
are running through the
sprinklers in your yard
while the sparrows feed
from the seeds in that
birdhouse you crafted
and now
as you get your morning paper
you make sure not to
step on the metropolis
ant farm on your driveway
for you are a
suburban emperor
of all living things
big and small
© by Ivan Jenson.
Used with the author's permission.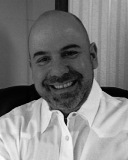 Ivan Jenson is an artist and writer who lives in Grand Rapids, Michigan. His poems have appeared in numerous publications and his artwork has appeared in national magazines and ad campaigns and been sold at Christie's, New York. Ivan enjoys reading, running, and walking his dogs. He paints with lots of color, and works on his poetry and novels in coffee shops while listening to electronica, R and B or dance music. Learn more about Ivan at www.ivanjensonartist.com.
mukwonagosusan:
This is a lovely poem full of images that are so ordinary and sacred. Thanks.
Posted 08/01/2011 11:54 AM
Linda Lee (Konichek):
Wonderful poem and tribute to one who practices what this world needs so much today. Thank you, Ivan!
Posted 08/01/2011 08:59 AM
KathyD:
I love this poem Ivan. . .I live in the Hudson Valley, but grew up in Western Michigan -- nice to be blessed this morning by a Grand Rapidsidian!
Posted 08/01/2011 05:37 AM