I am a mint chocolate chip,
a static walkie-talkie, a pine cone.
I am a ghost, a Roman column,
I am flakes of mascara.
I am a creaky door, an untied shoe lace,
a lemon custard pie.
I am an irrational number.
I am fermented grapes and a cold wading pool.
I am a cinema reel in a projector.
I am a missed bus.
© by Tara Morris.
Used with the author's permission.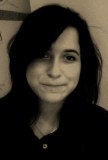 Tara Morris is a high school student in Toronto. She loves writing and film-making and does both on a regular basis. Tara finds her inspiration from life and the people around her. This is her first published poem, but she hopes to continue writing poetry in the future.
janet:
evocative, off the wall, a delight to read aloud.. janet y
Posted 09/06/2011 08:36 PM
KathyD:
Images galore!
Posted 08/05/2011 03:28 AM
Jennifer W:
Really love the last line-pulls my heart. Congratulations, Tara on your first published piece. I look forward to many more.
Posted 08/04/2011 11:29 AM
KevinArnold:
Strong images from a fresh new voice.
Posted 08/04/2011 10:50 AM
Jo:
This is such an alive poem. It whisks my breath Inside it. Everyone should know about Anjie,s great blog for writers and Jayne,s miracle page each morning on YDP. every day on YDP.
Posted 08/04/2011 10:45 AM
DavidFraser:
This is a wonderful poem. I like the concrete imagery.
Posted 08/04/2011 09:35 AM
wendy morton:
I used Tara's spectacular poem in a workshop this weekend. In Toronto, she produced this poem with such clear eyes, and with such delight. She is a poet to watch. She is only 15 and has a rare talent.
Posted 08/04/2011 09:15 AM
Reganz:
Beautiful poem. Whatever you might write, or whatever films you end up making, your creations will come from a poet's heart.
Posted 08/04/2011 09:13 AM
George Wentz:
Now that you have teased us about who you are, I hope you will frequently share some more of your poems in the Open Mic section. I'm curious to know what you see through the eyes of the ghost, how the irrational numbers add up, and where the missed bus is going.
Posted 08/04/2011 08:07 AM
nancy scott:
Bravo. A wonderful debut. Keep writing.
Posted 08/04/2011 07:47 AM
Anjie:
Tara, this is beautiful. I'm putting a link on my website. The whole world should know about this poem and about what Jayne does. Never stop writing. Blessings, Anjie Kokan www.promptsforwriters.blogspot.com
Posted 08/04/2011 07:00 AM