Atop the chicken-wire fence, a scarlet cardinal
faces me, afternoon sun blazing on its breast,
then turns to offer a dun back, and turns again.

You loved most birds, spent hours photographing
the mourning doves that built their nest on the rusting
box that framed our living-room air-conditioner.

We even feared to turn it on, not wanting to disturb
the nestlings. Daily upon homecoming, we peered
up at them, willing them to take the leap, to risk

the branch of the sycamore tree that almost touched
that window. Our tree-house, we called it when we
first moved in, glorying in the height, the ample shade.

Did you dream of birds when you lay ill, shape-shifting
into a blue-jay, your boyhood totem, and opening your
beak to harshly call from your perch in a sugar maple?

Perhaps you are that cardinal, visiting me here in Virginia,
cheering me on with his bright breast, although he won't
fly toward me when I ask you for a sign.

Or you are now a seabird near the ocean where I live—
a hungry gull or sandpiper—running, always running
along the shifting lip of foam.
© by Penny Harter.
Used with the author's permission.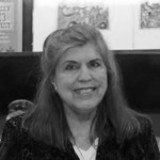 Penny Harter is a poet and teacher whose work appears in many print and online journals and anthologies. She has received fellowships from the NJ State Council on the Arts, the Poetry Society of America, and the Virginia Center for the Creative Arts. She also received the William O. Douglas Nature Writing Award, and was invited to read at the 2010 Geraldine R. Dodge Poetry Festival. After her husband's death in October, 2008, Penny moved to the South Jersey shore area to be near her daughter and family. She has many collections of poetry in print; her most recent books are a children's alphabestiary, The Beastie Book, and Recycling Starlight, a chapbook of poems reflecting her grief during the eighteen months following her husband's death. With her late husband, William J. Higginson, Penny co-authored The Haiku Handbook, reprinted last year in a special 25th anniversary edition. Learn more about Penny here.
penhart:
Bless you all for your kind comments about my poem. I was away in Seattle at the Haiku North America conference when it was posted, got home last night, so am just now checking responses.
Posted 08/08/2011 08:58 PM
loisflmom:
Penny, I cried for you when I read this. A very beautiful poem! Thank you.
Posted 08/05/2011 11:48 AM
wendy morton:
I like to think my dear dead friends have reappeared as ravens and morning doves that call to me from the woods. Or "shape-shifted into a blue-jay" that visits us each spring and makes a ruckus. A lovely poem.
Posted 08/05/2011 10:52 AM
DavidFraser:
Thank you for sharing this very tender poem of loss.
Posted 08/05/2011 09:37 AM
LRL:
thank you!
Posted 08/05/2011 06:47 AM