After tubing we itch
With memories and dirty
River water. Our heads are full
Of good thoughts: the way rapids
Gushed across rocks and us
With it. Fried chicken on the river
Bank and coconut-scented sunblock.
A fallen tree from which we jumped
Into currents we hoped were deep
Enough for us to touch bottom
Then re-emerge, wide-eyed
And grateful for air.
© by Janice Lynch Schuster.
Used with the author's permission.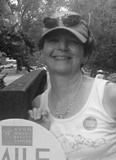 Janice Lynch Schuster lives near Annapolis, Maryland, where she works as a writer for Altarum Institute. Author of one chapbook, Saturday at the Gym (Three Acre Wood, 2011), and one non-fiction work, Handbook for Mortals: Guidance for People Facing Serious Illness (Oxford University Press, 2011), her poetry has appeared in Poet Lore and The Broadkill Review and been featured on Poetry Friday blogs. Janice, a mother of six, says that she finds "working out, mastering the body, inspires me to create poetry--mastering the language and the mind. I haven't mastered either yet," she admits, "but I keep trying."
dotief@comcast.net:
I love it! Reminds me of tubing down the Itchatucknee in Florida. The water was so cold when the air was so hot. Wonderful!
Posted 08/11/2011 08:48 AM
KevinArnold:
Just right to end the poem with gratefulness.
Posted 08/11/2011 07:54 AM