with anonymous markings
no distinct patterns, flutter
in every corner of my yard.
At least a dozen, unusual,
all in one place, at one time
with me watching them.

If they were Monarchs,
would I find it more incredible?
Would I stare more intently?
Wouldn't I run and holler to
those inside the house—
"Come take a look at this!"
If they were Swallowtails,
would I try to run and get
my camera to snap a photo?

Instead, I stand and watch
the dull tan moths lighting
on the top of the pool water
for a tiny drink in hot August.

I scoop them up, help them fly
before they get sucked into
the skimmer. I watch, I smile
as they dry their wings and fly
to the next yard, without me.
© by Larry Lawrence.
Used with the author's permission.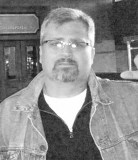 Larry Lawrence was born and raised in southern New Jersey, then left his hometown to attend Rutgers University and study playwriting at Mason Gross School of the Arts. A teacher in the Gifted & Talented program at several elementary schools, he has read and written poetry for many years. A committed writer, avid father and devoted sports fan, Larry continues to live in New Jersey but travels frequently to locations in the Southeastern U.S. Learn more about him here, or join him on Twitter @TheAmericanPoet.
spidersbite:
This is great! I am always excited to read your work.
Posted 08/16/2011 07:16 AM
Karen Chester:
I think this is marvelous. Bigger than backyard. Unusual.
Posted 08/16/2011 01:17 AM
Ink:
I like how the language is rather plain in itself, lending one more layer to appreciation between reader/words and speaker/moths. I also commend the seemingly effortless portrayal of the speaker's natural, almost instinctual act of helping of those smaller and less fortunate combined with the appreciation of the commonplace.
Posted 08/15/2011 07:53 PM
wendy morton:
poems are everywhere, starry, ephemeral, delicious. Even these ordinary moths.
Posted 08/15/2011 10:46 AM
Linda Lee (Konichek):
I love the mood and feeling of this poem-a poet helping us celebrate our connection to nature. Lovely...
Posted 08/15/2011 10:42 AM
Glen Sorestad:
I always liked the notion of writing from one's own backyard and here's a poem that does it to wonderful effect. Bravo, Larry!
Posted 08/15/2011 10:31 AM
jeanie:
nice! everything is incredible, even the dull moth.
Posted 08/15/2011 07:33 AM
DeborahHorton:
Love this :D
Posted 08/15/2011 06:53 AM