A moment the wild swallows like a flight 
Of withered gust-caught leaves, serenely high, 
Toss in the windrack up the muttering sky. 
The leaves hang still. Above the weird twilight, 
The hurrying centres of the storm unite 
And spreading with huge trunk and rolling fringe, 
Each wheeled upon its own tremendous hinge, 
Tower darkening on. And now from heaven's height, 
With the long roar of elm-trees swept and swayed, 
And pelted waters, on the vanished plain 
Plunges the blast. Behind the wild white flash 
That splits abroad the pealing thunder-crash, 
Over bleared fields and gardens disarrayed, 
Column on column comes the drenching rain.

This poem is in the public domain.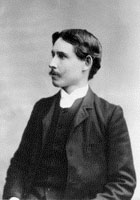 Archibald Lampman (1861 - 1899) was a Canadian poet who is often compared to America's Henry David Thoreau. Born and raised in Ontario and drawn to nature from an early age, Archibald was an excellent student but a bout with rheumatic fever left him in less than robust health. He taught briefly before taking a position as a post office clerk, a job he held till his death at the age of 37 from a heart condition caused from his childhood illness. Archibald began writing poetry during his college days, and saw his work published in Canadian, American, and British publications. He authored three books and is respected today as one of Canada's finest poets.
Glen Sorestad:
Lampman's poem still stands as one of the best poetic descriptions of a summer thunderstorm. And a sonnet yet!
Posted 08/26/2011 10:24 AM
KevinArnold:
So appropriate for what we're about to experience on the East Coast . . . unrelenting, well crafted.
Posted 08/26/2011 09:10 AM