O, corkscrew –
You're supposed to be easier,
easier than the one
with bird wings that press down,
and pull the cork up,
easier than the one
with rabbit ears that I press
with the strength of a stevedore
lifting cargo,
much easier than the one
with a blond wood pull-handle
and snaking metal tooth.
The salesclerk told me
how you lift yourself up
by twirling and twirling like
a ballerina on point.
But I stare at your black plastic
inscrutable body.
O, corkscrew –
Will you ever
let me understand
your parts,
and how, oh how
they work together?

This poem first appeared on HighlandParkPoetry.org.
Used here with the author's permission.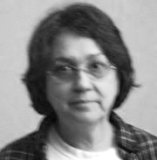 Marcia Pradzinski is a Chicago native currently living in Skokie, Illinois. She teaches ESL to International Teaching Assistants at the University of Illinois in Chicago. Marcia has always loved words in their many contexts: on a page, in songs, and in foreign languages such as Polish and Ukrainian, which she heard spoken while growing up. Her poetry has been featured in Rhino, after hours, Avocet, Cram 9 and Cram 11, as well as on the Highland Park poetry website. In 2010 and 2011, Marcia's poems received first place and honorable mention awards in the Evanston Public Library's Jo-Anne Hirshfield Memorial Poetry Contest.
Gail Goepfert:
Glad to see this here. The last five lines could apply to many things!
Posted 08/27/2011 01:11 PM
Jo:
Marcia, I'm so glad to see your poem here this morning. You look at the frustration of corkscrews with humor. Give their unpredictability some balance. Good poem.
Posted 08/27/2011 08:56 AM
Rob:
Very funny and true! A neighbor once loaned me a corkscrew that I had to return unused. Could not begin to figure out how it worked :)
Posted 08/27/2011 08:12 AM
dotief@comcast.net:
I feel this poet's pain! Been there and probably said, though less poetically, of course, the same things. Great poem!
Posted 08/27/2011 07:47 AM