(IN THE BEGINNING)

The sun is a huntress young,
The sun is a red, red joy,
The sun is an Indian girl,
Of the tribe of the Illinois.

(MID-MORNING)

The sun is a smouldering fire,
That creeps through the high gray plain,
And leaves not a bush of cloud
To blossom with flowers of rain.

(NOON)

The sun is a wounded deer,
That treads pale grass in the skies,
Shaking his golden horns,
Flashing his baleful eyes.

(SUNSET)

The sun is an eagle old,
There in the windless west.
Atop of the spirit-cliffs
He builds him a crimson nest.


This poem is in the public domain.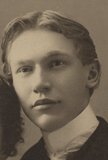 Nicholas Vachel Lindsay (1879 - 1931) was born in Springfield, Illinois to a close and devoutly religious family. His family hoped Vachel would become a doctor like his father, but he was drawn to art and poetry from an early age. Though he began self-publishing many years earlier, distributing his work for free and reading it wherever he could find an audience, his first poem wasn't ?officially" published until he was 34. Vachel literally walked across the country for years, exchanging poems for food and lodging. His readings were bold, dramatic presentations, his poems typically focused on social issues, and the public loved him. Never very healthy, Vachel slowly succumbed to a manic-depressive disorder aggravated by debt and declining creativity; he killed himself by drinking cleaning solvent at the age of 52, leaving behind his wife and two young children.
kayruth:
this poem is wonderful. i could feel the hot sun out on the prairie.
Posted 08/29/2011 11:44 PM
dotief@comcast.net:
I lived for several years on the Illinois side of St. Louis. We lived on a high hill that overlooked the beginning of the Great Plains. I played my little girl, summer games in the center of such days, and this poem brought them all back to me. Thanks.
Posted 08/28/2011 08:08 AM
Katrina:
Wow! This is beautiful. What a tribute to solar power!
Posted 08/28/2011 05:23 AM