the silhouette
of a man in a boat
who watches the waves
lap the rocks and the reeds

as he strokes
his thinning hair,
contemplates the reflections
among the ripples,
the waning yet to come.

The light on the water,
the full moon, 
all are silver
through the mist

where the sun
had shone
only a few hours
or decades earlier.


From Casting for Meteors (Finishing Line Press).
Used with the author's permission.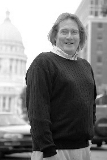 David Scheler's work has been published in numerous national and international publications. He is a member of the Wisconsin Fellowship of Poets, and serves as their designee on the Wisconsin Governor's Poet Laureate Commission. Currently employed as a marketing researcher, David spent 15 years as a jewelry designer. When not writing or translating poems into French, he enjoys fishing, music, and nurturing the gardens on his ten-acre hilltop near Madison, Wisconsin. David's chapbook, Casting for Meteors, was named an "Editors' Choice" by The Aurorean poetry journal.
waldo47:
David, This is a fine poem and I say so though I'm a member of the thinning hair, silver mist brigade. I want to mention, too, that I very much admire your "Holiday Concert". It's a gem and I appreciate Ralph Murre giving it a wider venue.
Posted 12/25/2013 02:35 AM
Eiken:
Simple and so beautiful.
Posted 08/30/2011 05:52 AM
Jo:
Beautiful poem, David.
Posted 08/29/2011 05:45 PM
dotief@comcast.net:
Lovely!
Posted 08/29/2011 08:44 AM
Ralph Murre:
A fine poem, David. A silver mist around here on these golden days, too. A thinning.
Posted 08/29/2011 08:26 AM