After watching "Pollock", with Ed Harris
as the tormented genius,
I couldn't sleep,
thinking about suffering and art.
Should I feel a little shallow
because I'm not a drunk or a slave
to drugs, I pay my bills, like to cook,
and no believer in my genius supports me?
When I have a bad day,
instead of waking up fiercely hung over
and filthy on a Manhattan street,
at the end of this trying day
I do the dull, comforting routines —
let the dogs out, fill the cat food bowl,
floss, check email, and usually (not always)
behave like a grownup
who happens to be a poet.
I don't like to wear black all the time.
Cigarettes stink.
Bad poets performing their work embarrass me.
I'm all for people expressing themselves,
but I also want them to shower,
and they had better not turn over any
Thanksgiving dinner tables in my vicinity.
Pain makes art
but so do pleasure and normalcy.
Sometimes the quietest person in the band
produces the purest and most lovely sound.

From Never Say Never (Moon Pie Press, 2004).
Used here with the author's permission.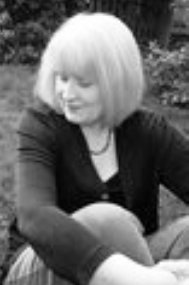 Alice N. Persons was born in Massachusetts, grew up in the Army, and graduated from high school in Virginia. After earning a J.D. from the University of Maine School of Law, she worked as a copy editor, bartender, waitress, and secretary before becoming an English teacher. Alice began writing and publishing poetry in the 1980s; she is the author of four poetry collections, her work has have been published in various journals and anthologies, and eight of her poems have been featured on The Writer's Almanac on National Public Radio. She is co-founder of Moon Pie Press which has published more than sixty books, volunteers for animal welfare, and caters to four cats and a dog at her home in Westbrook, Maine.
wendy morton:
Here's to all the lovely, ordinary sounds that poets make.
Posted 08/30/2011 10:29 PM
ghctenmile@earthlink.net:
Amen, Alice! Thanks for this. Grace Chappell
Posted 08/30/2011 08:40 PM
Joe Sottile:
Excellent poem! Wish I wrote it! It certainly hits home, especially the last two lines. Still waters do run deep.
Posted 08/30/2011 07:35 PM
Jo:
Stop-you-in-your tracks stunning...Jayne has it right. And your poem is affirming for all of us who believe art can come from the quiet, the unassuming, the ordinary if you will.
Posted 08/30/2011 11:58 AM
Glen Sorestad:
A very fine poem, Alice. It is reassuring and affirming to know that others believe art can emanate from lives that are not pain-deluged.
Posted 08/30/2011 11:12 AM
Anjie:
Great points within your poem, Alice. It's finding the extradordinary in the ordinary that makes a great artist. And you don't have to be drunk or high to do that. However, they just might not ever make movies about artists who don't tip tables over on the holidays--and I don't know about you, but I'm okay with that. :) _Anjie http://www.promptsforwriters.blogspot.com
Posted 08/30/2011 09:30 AM
mimi:
i whole-heartedly agree! good poem, thanks...
Posted 08/30/2011 08:21 AM
dotief@comcast.net:
Great quotation, Katrina. And great poem, Joyce. Who doesn't love the last two lines?!?
Posted 08/30/2011 08:15 AM
Katrina:
normalcy? - is that a word? - it sounds scary! I am a big fan of the graffiti artist, Banksy, who wrote 'All artists are prepared to suffer for their work - but why are so few prepared to learn to draw?' http://tinyurl.com/3j3fbd3
Posted 08/30/2011 05:26 AM