September 11, 2001
Last night he asked us over and over 
if we had packed everything he'd need 
for his first day of pre-school, his first time 
away from us with people he didn't know. 
And later, while he slept on sheets filled 
with smiling Barneys, I lay in the next room 
worrying about bullies and other terrors 
that might be waiting within the walls 
of Miss Rose's Sunshine Pre-School.
 
But when I arrive to pick him up 
he wears the grin of a survivor and runs 
across the room to tell me he's learned 
a sunflower dance. "You have to open up 
your arms," he says, "and pretend 
you're reaching for the sky" and his eyes 
are tiny suns as he waves his hands as high 
as he can. It's then I clutch him to my heart, 
grateful for his milk and cookie breath and 

the beautiful ordinariness of one more day 
of his life. And I don't want to let go, 
I don't want to lead him out to my car 
and the agony on the radio, the sagging 
flags coloring our way home. I want to hide 
him from today's sky where planes aimed 
at death and changed his world with blood 
and flames while he danced as a flower, 
palms open, like a man gasping his last prayer.
From Dream Teaching (Grayson Books).
Used here with the author's permission.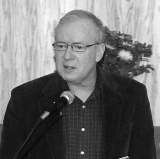 Edwin Romond is a poet, playwright, composer, and educator. Now retired, he taught English for more than 30 years in Wisconsin and New Jersey. Edwin's award-winning work has appeared in numerous literary journals, college text books and anthologies, and has been featured on National Public Radio. He maintains an active schedule of readings and presentations; check www.edwinromond.com to see if he's appearing anywhere in your area. A native of Woodbridge, New Jersey, Edwin now lives in Wind Gap, Pennsylvania, with his wife and son.



Shoshauna Shy:
This is incredible on so many levels.
Posted 09/11/2011 04:44 PM
Joe Sottile:
Wow!
Posted 09/11/2011 02:40 PM
vawomann:
Beautiful poem about innocence which so many of us felt we lost that day.
Posted 09/11/2011 01:40 PM
LindaCrosfield:
I almost didn't read it. There's been so much. But I'm glad I did. Leave it to a poet to light the way.
Posted 09/11/2011 01:07 PM
pwax:
Beautifully done. Sensitive but not maudlin. Thank you. Phyllis
Posted 09/11/2011 11:15 AM
Linda Lee (Konichek):
Beautiful and tragic at the same time; I was feeling that this is a day to do something significant in memory of all who were so involved in this terror, while we watched and wept and held on to loved ones. Edwin, thank you for this poem and its belief in what really matters.
Posted 09/11/2011 09:32 AM
dianapoet:
The innocence of a child juxtaposed with the tragedy occurring in the world.
Posted 09/11/2011 09:08 AM
Jo:
Thank you for this poem.
Posted 09/11/2011 08:54 AM
Glen Sorestad:
What a fine poem, bringing home the irony that even in the starkest tragedy and darkest day, life, with all its small beauties, still endures.
Posted 09/11/2011 08:20 AM