Knees braced in stinging grass
I learn my own joints
The curve of my spine
A trellis of bone and sinew
Up to collar and throat
Branched into shoulder, then elbow, then wrist
Flowering twin hands full of knuckles

Which dig into the irises
To sort their Gordian Knot
Of root and worm and fungal filament
And cut it from the ground

I am, in this afternoon
A maker of laws against prosperity
Chastising my creation
Which is forever dividing and divining
Kneeling over my raspy flock I prize
Bare a mummified welter of wombs
And begin the violence of separation

Some go back to their beds
Tucked chaste distances apart
Others are cracked from their kin
Exiles bound for foreign lawns

While I linger, remorseful
Among my bruised and scattered irises
Plant knuckles and palms beside the bulbs
Where I feel the whole weight of the earth
Through my shoulders, my penitent back
Pulling as if I could relent
And pass into soil

To live simply
Unsheltered, in the company of crickets
My womb dividing and divining
Until I am numerous, independent of bone

© by Rae Spencer.
Used with the author's permission.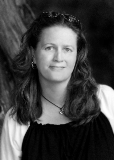 Rae Spencer writes poetry and fiction. For her, writing is a way to merge the fixed world of science and math with malleable inner realms of dream, memory, and imagination. Raised in Tennessee, she now makes her home in Virginia, where she is a member of the Albright Poets. Her poetry has been published in online and print journals, receiving Pushcart Prize nominations in 2009 and 2010. She can be found online at www.raespencer.com.
Ben Bulben:
A really magnificent poem--beginning with human anatomy--"a trellis of bone and sinew"--as a prelude/analogue to the plant anatomy provides that dash of brilliance that makes the poem so effective!
Posted 09/13/2011 11:03 AM
Jo:
Love your writing, from dividing to divining--how beautiful!
Posted 09/12/2011 10:14 AM
Anjie:
"until I am numerous, independent of bone." BRILLIANT, Rae. I love your writing!
Posted 09/12/2011 09:02 AM
dotief@comcast.net:
This poem moves flawlessly from an earthy to an ethereal quality--dividing the bulbs of such delicate flowers with "root and worm and fungal filament" and then divining until one is "independent of bone." Wonderful imagery!
Posted 09/12/2011 08:38 AM
jeanie:
love that last stanza!
Posted 09/12/2011 07:26 AM
tannerlynne:
I spent the weekend digging out daisies that had taken over...the iris are next...this takes mental and physical fortitude and I have this poem as my quide. Thank you.
Posted 09/12/2011 07:23 AM