Again this year it comes:
the shift in the wind
that certain slant of sun
the sudden red of sumac.

Out at the lake
birdsong is less urgent,
the young can feed themselves.
In a few days 
something like light
will tug on wings.

I am at home with
the downside of summer.
I take stock of the woodpile.
Night comes earlier. The space
between cricket chirps, longer.
I've stopped coloring my hair.

My husband fingers the gray
as if learning a tenderness.
This poem first appeared in Secondwind.
Used here with the author's permission.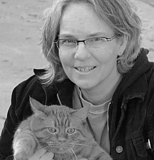 Jeanie Tomasko is a home health nurse in Madison, Wisconsin. She was almost an English major and enjoys a life of regret by writing poetry on the side. She enjoys all things nature, especially birds and long walks. Jeanie's chapbook, Tricks of Light, is forthcoming in 2011 from Parallel Press.

wendy morton:
the space between cricket chirps. How she listens, sees. Wonderful.
Posted 09/16/2011 09:11 AM
Linda Lee (Konichek):
"...something like light will tug on wings." Beautiful images and feeling, love this poem. Thanks, Jeanie.
Posted 09/16/2011 09:02 AM
KevinArnold:
The ending, easing adeptly into the personal, brings the poem home for me.
Posted 09/16/2011 08:57 AM
ed werstein:
Excellent, Jeanie.
Posted 09/16/2011 08:30 AM
mimi:
a sweet melancholy...beautiful poem, friend Jeanie! Sharon A.
Posted 09/16/2011 08:09 AM
tannerlynne:
"The space between cricket chirps, longer." Yes!
Posted 09/16/2011 06:34 AM