You'd think the gods might have warned us
how time changes things—
or maybe they did, and we weren't listening.
Instead, we set out on our journeys--invincible,
sure of immortality. We all do it.

Today, on our path, the tops
of a few maples are already autumn-kissed.
Grasshoppers and damselflies dart about
among wild grapes by the old settlers' cabin.
We stop and taste sun-warmed fruit.

The grapes are tart, full of seeds.
You tell me of your mother
hanging them in muslin bags
squeezing and squeezing
last drops of summer into jars.

A small splash of purple stains my white shirt
and I daydream of lying (naked) in the vines,
crushing small globes of fruit over us,
tasting the nectar of summer on our bodies—
our time now to squeeze the juice
out of each tart and perfect day.

© 2011 by Sharon Auberle.
Used with the author's permission.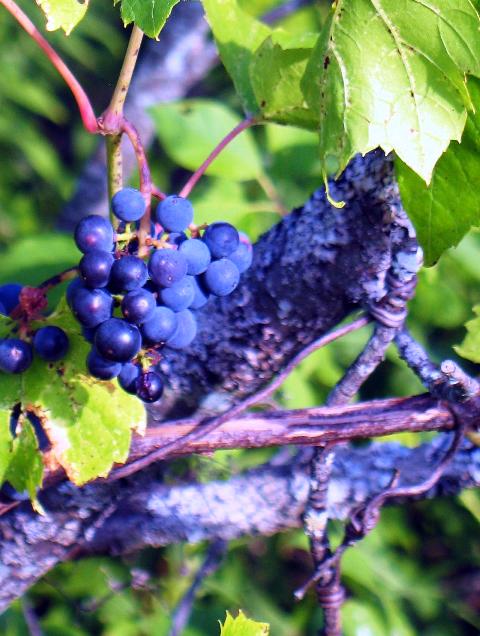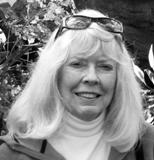 Sharon Auberle is the author of two books, Saturday Nights at the Crystal Ball: a Memoir in Poetry, and Crow Ink, a collection of her poetry and photographs. She loves water and winter, the subjects of many of her poems, and is happy to be back in the land of her roots, the Midwest, after nearly twenty years in the drought-stricken Southwest. Sharon has recently ventured into the world of recorded word, via her new CD, Something After Burning, which features poems from her forthcoming book by the same name, with music backup from some the finest musicians in Door County, Wisconsin. The CD is available for $10 plus $3.50 S. & H., from the author at P.O. Box 701, Sister Bay, Wisconsin 54234. When not writing or out in the woods, Sharon can be found on Facebook or hanging poems and pictures at her website--Mimi's Golightly Café. She freely admits that both take time away from her poetry. Learn more about Sharon here.
dotief@comcast.net:
Reading this makes me want to be a teenager again, doing daring and exotic things in search of self. Wonderful poem!
Posted 09/17/2011 04:04 PM
Katrinka:
Perfectly captures the details and evokes the feelings. Karen W
Posted 09/17/2011 03:13 PM
LindaCrosfield:
Delicious!
Posted 09/17/2011 01:01 PM
wendy morton:
what better way to squeeze the juice out of every tart and pefect day than with a poem.
Posted 09/17/2011 12:58 PM
Jo:
I like everything about this poem, Sharon. Another wonderful addition to a summer fast leaving.
Posted 09/17/2011 10:25 AM
Linda Lee (Konichek):
A perfect poem for a perfect day here in southern Wisconsin. Thank you for adding these images to it!
Posted 09/17/2011 10:05 AM
ed werstein:
Really nice, Sharon. Excellent poem. Auberle and Tomasko in the same week! Awesome.
Posted 09/17/2011 08:53 AM
jeanie:
tasty, sharon. mmmmm mmmmm!
Posted 09/17/2011 07:45 AM