I am bellied on the porch,
my eyes reeling in green-gold and red

by the blink. A chipmunk gathers
grass blades, each by inch,

for his nest of agilities.
He is a-scamper, whipping up

a place that is sofa-soft.
I watch. The mind nestles in the body.

I grow quick enough to catch a fly,
keen enough for the animal eye.
© by Jesse Breite.
Used with the author's permission.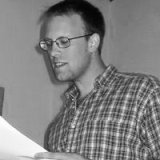 Jesse Breite has lived many places, but he considers Little Rock, Arkansas, his home. Jesse currently lives and teaches high school English in Atlanta, Georgia. He wrote his first poem while riding the train from Chicago to Quincy, Illinois. Now, he tries to make a poem every night before bed.
Glen Sorestad:
My ear loves the sound of the chipmunk gathering grass "each by inch". Great stuff!
Posted 09/18/2011 10:21 AM
Ginny C.:
Best phrases: his nest of agilities the mind nestles in the body
Posted 09/18/2011 10:13 AM