Keep the faith, she said
As she got off the train,
And I wondered how faith mattered
To morning commutes, Chicago
And a bland September 19.
Faith in what, for what or whom?
God is not downtown
In the shoving and honking curses.

We are there, though,
The whites, blacks, Koreans
And crack heads,
Mixed into the mess and midlife stress…

Faith for optimism and a smile from my seatmate.
© by Chris Danzig..
Used with the author's permission.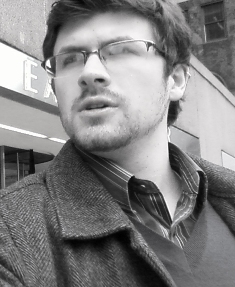 Christopher Danzig grew up with dreams of writing the Great American Novel and becoming the next Ernest Hemingway, W.H. Auden, or Bob Dylan. He hasn't quite given up. Currently a freelance writer, Chris has written about everything from Christian heavy metal to legendary adventurers to life with Tourette Syndrome. After a six-year stint in Chicago, he now lives in Oakland, Calif.

Eiken:
I liked this, I found myself believing, having faith in your seatmate and I am smiling. Thank you, no point in going around glum when we can smile.
Posted 09/23/2011 06:31 AM
Linda Lee (Konichek):
I am almost always amazed at how far a smile can take me, wherever I am. And I still like being a "cock-eyed optimist" most of the time! Thanks, Chris.
Posted 09/19/2011 10:55 AM
Julianne Carlile:
I have fought the good fight. I have finished the race. I have kept the faith.
Posted 09/19/2011 08:11 AM