When summer —
with its parched earth
all cracked
like
lovers' lips
so forcefully kissed —
finally ends,
welcomed is
the split
and
splat
of rain
against doors,
behind which
collective breaths
long held
exhale
as fall moves in slowly,
and
the withered trees
shall
remain
standing
© by Jana Kalina.
Used with the author's permission.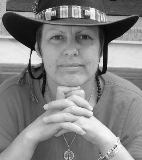 Jana spent her childhood picking wild blueberries and mushrooms in the ancient hills of Bohemia. She then moved to Australia, where it was really hot, then to Canada, which was a blessing for the avid naturalist and animal lover. After earning her degrees, Jana freelanced and worked at a few newspapers, eventually switching to social services and the educational system. Life in Victoria, BC, with a terrific husband and two wonderful — but uncooperative — wired-haired basset hounds, provides her with ample access to natural spaces all year round. Jana's conversion to poetry was sudden and complete. She's working on her first book manuscript.
wendy morton:
how we all wait for rain, and then: split and splat on the skylights and the season turns.
Posted 09/22/2011 04:51 PM
Glen Sorestad:
The image of lovers' lips/parched earth stays with me. Good touch, Jana.
Posted 09/22/2011 09:46 AM
Katrina:
Yes - the split and splat are so rarely appreciated in their full glory :)
Posted 09/22/2011 08:13 AM
jeanie:
love this: 'welcomed is the split and splat of rain against doors' beautiful!
Posted 09/22/2011 07:00 AM
Eiken:
Beautiful, really love the tightness of this poem. We do not get dry weather like you in my part of the world (Ireland) but of course we all travel and see the parched earth of so many warm climates. Loved this poem Jana.
Posted 09/22/2011 05:23 AM
Jane Brett:
Hey Jana, I'm waiting anxiously for rain and your poem is the next best thing !
Posted 09/22/2011 12:32 AM