Did you know
that when you watch
an old TV sitcom
the laughter you hear
is the laughter
of the dead?

Some of those laugh tracks
were made 50 years ago
and the people who laugh in them
were already old when they laughed.
Now, they are dead.

They look down from heaven
on Lucy and Rickie, Fred and Ethel,
Gilligan, Ginger, and Maryann.
They look on the Beaver and to-the-moon-Alice.
They look on Colonel Klink in his cozy stalag.

They cannot help themselves.
They hoot and guffaw.
They chuckle, giggle, and howl.
Even though they are long dead,
it is all still so funny. 

© by Lisa Vihos.
Used with the author's permission.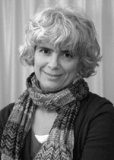 Lisa Vihos spent more than twenty years as an art museum educator and is now the Director of Alumni Relations at Lakeland College in Sheboygan, Wisconsin. Associate editor of the literary journal, Stoneboat, her poems have appeared in Free Verse, Lakefire, Wisconsin People and Ideas, Seems, and Big Muddy. Lisa lives with her son in Sheboygan; learn more about her here.
Larry Schug:
Memorialized for laughing-it could be verse. Sorry, I couldn't help myself. An original idea well expressed.
Posted 02/09/2020 09:06 PM
lovelychickens:
. . . and thanks to your poem, I'm laughing WITH them.
Posted 09/25/2011 12:57 PM
Ralph Murre:
Brilliant counterpoints: the sadness of the laughter. The cozy stalag of the old Sylvania. Excellent poem.
Posted 09/23/2011 08:26 AM
mimi:
interesting thought--makes that canned laughter less annoying and rather poignant, actually! Sharon A.
Posted 09/23/2011 08:06 AM
angierdh:
I love any poem that can work in my favs, Lucy especially. Nice work!
Posted 09/23/2011 07:50 AM
pwax:
Good title, Lisa, and the poem was fun to read. Phyllis
Posted 09/23/2011 07:28 AM
jeanie:
nice lisa! love the ending. (must say, it's something i've never thought about)
Posted 09/23/2011 07:22 AM
Eiken:
Very thought provoking and fine tributes to them, wonderful artists.
Posted 09/23/2011 06:29 AM
Kay Sanders:
I never enjoyed canned laughter--till now. Thanks, Lisa,for starting my day with a smile and a deep thought or two.
Posted 09/23/2011 05:42 AM
rrcampbe:
It feels funny to experience nostalgia and one's own temporal limits together. An interesting combination. Oh well, it comes easily at 63! Great poem.
Posted 09/23/2011 05:04 AM