A jay on the fence preaches to a
squirrel. I watch the squirrel quiver,
the way squirrels do – its whole
body flickers. I'm not sure why this
reminds me of when I was five and

something died in our drain spout.
Feather or fur, I watched my father
dig it out, knowing (as a child knows)
how much life matters. I have seen how
easily autumn shakes the yellow leaves,

how winter razes the shoals of heaven.
I have felt love's thunder and moan, and
had my night on the wild river. I have
heard the cancer diagnosis with my name
in it. I know what mercy is and isn't.

Morning breaks from sparrows' wings
(life's breezy business), and I'm still here,
still in love with the sorrows, the joys –
days like this, measured by memory, the
ticking crickets, the pulse in my wrist.


From What Matters (Welcome Rain Publishers, 2011).
Used with the author's permission.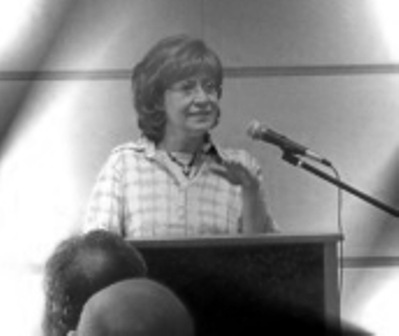 Adele Kenny is the author of 24 books (poetry & nonfiction). Her poems, reviews, and articles have been published in journals in the U.S. and abroad and in several anthologies. She is the recipient of various awards and fellowships from the NJ State Arts Council, and her new collection of poems, What Matters, is just out. Adele maintains an active schedule of readings and workshops, directs the Carriage House Poetry Series she founded in 1998, and serves as poetry editor of Tiferet. An animal lover, she has raised three Yorkshire Terriers (Dylan, Yeats, and Bijou), and numerous exotic birds. To learn more about Adele, or to receive her weekly poetry prompts, visit http://adelekenny.blogspot.com/ or http://www.adelekenny.com/.
Karen Chester:
I am deeply affected by this poem ... by its raw and tender truths ...
Posted 10/03/2011 01:45 AM
Jo:
I'm with Anjie. That is the line that stays with me: "I kow what mercy is and isn't." Thank you for What Matters.
Posted 10/01/2011 09:04 PM
Anjie:
Amen, amen, amen! Adele, this is just fabulous. I LOVE this poem. Especially the line, "I know what mercy is and isn't."
Posted 10/01/2011 05:39 PM
trailpny:
A gorgeous poem -- so many arresting lines, though I think I will carry with me from now on, "knowing (as a child knows)/ how much life matters." Thank-you.
Posted 10/01/2011 10:52 AM
Ginny C.:
artfully done, a beautiful poem...
Posted 10/01/2011 08:55 AM
dotief@comcast.net:
Painfully beautiful and very true!
Posted 10/01/2011 08:47 AM
phebe.davidson@gmail.com:
Me too! This poem is a heartening poem.
Posted 10/01/2011 07:23 AM
penhart:
This is a beautiful poem, Adele! Congratulations to you, dear friend, both for this posting and for your new book. I, too, know the feeling of celebrating being "still here" with days "measured by memory." Thank you!
Posted 10/01/2011 07:08 AM