taps me on the shoulder
and says she wants
to take me to bed.

I tell her I'm just
going to finish
this chapter and then
I'll join her and
she'll get what she's after.

Sleep is impatient
keeps poking me
insisting I pay her
some attention.

I think she is jealous
of my books.

Sleep slips a mickey
into my herbal tea
and has her way with me.

I wake at three and realize
she's left me again.

She's thrown my book
on the floor
and hasn't even bothered
to turn out the light.
© by Ed Werstein.
Used with the author's permission.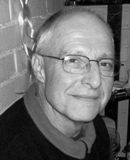 Ed Werstein is an employment counselor who assists Native American job seekers. His poetry has appeared in Verse Wisconsin, New Verse News, the Wisconsin Fellowship of Poets calendar, and a few other publications. Ed lives in Milwaukee, Wisconsin, and is a proud member of The Hartford Avenue Poets group.
KevinArnold:
Fun.
Posted 10/05/2011 04:20 AM
bfaybooks:
Well, I just have one more ZZZZZZZZZZZZZZZ cheer to add for your all too relevant poem Yayyyyyyy
Posted 10/04/2011 05:51 PM
LindaCrosfield:
Good one, Ed. I'm sure none of us can relate! I always enjoy a little unexpected personification with my morning coffee.
Posted 10/04/2011 12:29 PM
pwax:
I love it, Ed! What fun to read!
Posted 10/04/2011 09:56 AM
LisaV:
great poem, Ed. Fun and clever and perfect!
Posted 10/04/2011 09:26 AM
mimi:
LOVE this poem, Ed, and I can so relate! Sharon Auberle
Posted 10/04/2011 09:21 AM
Janet Leahy:
wonderful last line, clever and fun thanks Ed
Posted 10/04/2011 08:26 AM
jeanie:
perfect poem, ed! love it.
Posted 10/04/2011 08:02 AM
Jo:
How true, Ed. You've had some fun at Sleep's expense, exposed her antics and given me a good laugh this morning.
Posted 10/04/2011 07:56 AM
Donal Mahoney:
Certainly hope to read more by Ed Werstein.
Posted 10/04/2011 07:02 AM
Julianne Carlile:
I thought you were going to win!
Posted 10/04/2011 06:51 AM
Kay Sanders:
Yes, thanks, Ed. This is delightful--and so true!
Posted 10/04/2011 05:20 AM
Gary Busha:
Clever use of personification. Thanks, Ed.
Posted 10/04/2011 04:56 AM