That time of evening
when the sun, sinking
into amber, gives way
to the white-cool moon;
when pink like the vee of geese
pushes up against deepening
blue; when the cricket,
once solo and vibrato,
thrums with thousands;
when red-winged blackbirds,
stretching, feeling the wire's hum
beneath their feet,
succumb to their final flight;
when cold air spills
into valleys, frothing at their brims,
and warmth on hilltops,
having clung like honey
to every vestige of light
at last, lets go;
then I, too, buoy in the wake
of the passing day,
vulnerable as earth,
fearing not the anointing of night
yielding to the swell of eventide.
From Slipping Out of Bloom (WordTech Editions, 2010).
This poem first appeared in Avocet.
Used here with the author's permission.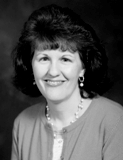 Julie L. Moore believes that writing poetry can be like a game, for it can manipulate language, satirize our clever, yet shallow, society, and even crack jokes. But that's not why she jots notes in her moleskin while washing dishes, playing summer tourist, or trying to endure prolonged and painful illnesses. For her, it?s about saving a life: her own and--she hopes, if she's any good at it--someone else?s. Author of Slipping Out of Bloom (WordTech Editions) and Election Day (Finishing Line Press), Julie?s award-winning work has been published in numerous journals. Julie lives in Cedarville, Ohio; read more about her at www.julielmoore.com.
Alli Chase:
I like the way you use color in your poem. The images you describe are wonderful!
Posted 10/11/2011 09:39 AM
Eiken:
Beautiful time of evening, an evocative write, really enjoyed it as a reader.
Posted 10/10/2011 03:59 AM
penhart:
A lovely poem, Julie---you capture "that time of evening" so well. Twilight is one of my favorite times. Thank you for these gorgeous images, and for that leap to "the anointing of night." Beautiful--and I hear the music in the words, too.
Posted 10/09/2011 11:10 AM
ghctenmile@earthlink.net:
This is lovely. Thanks for sharing it.
Posted 10/08/2011 02:39 PM
Jo:
Julie, Another beautiful meditation from your wonderful book, Slipping Out of Bloom. So good to see it here this morning.
Posted 10/08/2011 01:29 PM
dotief@comcast.net:
Julie has captured very well that time of day with all the ambivalent feelings the coming of night can bring. I love that she "yields to the swell of" it. Magic.
Posted 10/08/2011 12:00 PM
Glen Sorestad:
A wonderful poet's eye; splendid word choice. I loved it.
Posted 10/08/2011 10:06 AM
Anjie:
OH, Julie--I love your work so much. I was gifted with a signed book of "Slipping. . . " from one of my dear WI friends. I was especially moved by the poem "Blue Bead." You are amazing. And as far as this poem goes, with your permission, I would love to share it with students in the Autumn Splendor poetry series.
Posted 10/08/2011 07:53 AM
Julianne Carlile:
Beautiful poem.
Posted 10/08/2011 05:52 AM