This maple tree's slipped into something
scarlet, which she'll peel off slowly,
leaf by leaf. Look at her showing
her bare limbs and bark. She knows
that age is just another ring, a thing
she's happy to accumulate. O tree.
Do you know your buds are in the bank,
already deposited in the securities
of twig and branch? Your red silk
slip, gorgeous on these sheets
of satin blue, will fray and crumple,
turn into rags. Sooner, or later,
we'll all fall down.
This poem first appeared in Louisiana Literature.
Used here with the author's permission.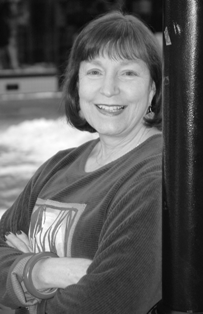 Barbara Crooker is the author of ten chapbooks, three full-length books, and more than 700 poems published in more than 2000 publications. She credits her achievements to perseverance as much as talent, and says, "Writing poetry is not putting down whatever comes into your head, and leaving it at that, never taking it any further. Poetry involves layers, and a lot of revision." Barbara lives in Fogelsville, Pennsylvania; read more about her at www.barbaracrooker.com.
phebe.davidson@gmail.com:
Extraordinary grace in this one!
Posted 11/05/2011 08:24 PM
Jo:
Barbara, You continue to amaze me with your poems. I really like this one. Great metaphor I've never seen used like this before. Will watch the maple more closely.
Posted 10/09/2011 04:04 PM
LindaCrosfield:
Was just admiring ours this morning. Lovely tree, lovely poem.
Posted 10/09/2011 01:55 PM
karenpaulholmes:
fabulous!
Posted 10/09/2011 12:32 PM
pwax:
And the perfect title!
Posted 10/09/2011 11:51 AM
pwax:
Well done! The metaphor is carried nicely all the way through the poem.
Posted 10/09/2011 11:50 AM
penhart:
Lovely poem, Barbara! I especially love the images of the buds being "in security in twig and branch"---and that "red silk slip". And, of course, the turn at the end with echoes of the old nursery rhyme. Bravo!
Posted 10/09/2011 11:07 AM
wendy morton:
Delicious poem. We are all maple trees.
Posted 10/09/2011 11:02 AM
Kay Sanders:
I love the way this poem is about the tree - and me!
Posted 10/09/2011 07:48 AM
Anjie:
Oh, Barbara, you did it again! I love this so much. Especially the last line.
Posted 10/09/2011 06:57 AM