I thought I saw my mother 
on television, her hair 
cut in a swingy pageboy, 
mouth chiseled with dark lipstick. 
She was manicured and pointing, 
hands sweeping across a map 
of the Midwest, isobars 
clinging to the back of her arms 
like spider webs. She'd just quit 
her stint as housewife, shrugged off 
forty years as martyr and ended 
her long term relationship 
with dust and elbow macaroni.
Stunned, I tried to change the channel,
to relentless morning 
news or a clearance sale on Egyptian 
jewelry, watch an infomercial 
hawking salvation through better skin.
But I kept coming back, surprised 
to see how satisfied she was, 
how well she controlled someone 
else's day, pleased to advise 
people in Tomah to wear their raincoats, 
adding that those in La Crosse could 
leave their umbrellas at home.
From Flight Patterns, winner of the 2003 Main Street Rag Chapbook Contest.
Used here with the author's permission.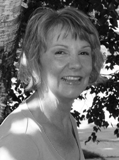 Karla Huston, Wisconsin's current Poet Laureate, lives in Appleton, Wisconsin. Author of six chapbooks of poetry, most recently An Inventory of Lost Things (Centennial Press, 2009), her book, Flight Patterns, won the Main Street Rag chapbook contest in 2003. She has earned numberous writing awards, including residencies from the Ragdale Foundation and Bread Loaf, and her work has appeared in many journals. Learn more about Karla at www.karlahuston.com.
KevinArnold:
Yes, a delight.
Posted 10/17/2011 07:06 PM
apersephone:
The storyline is alluring, I was immediately drawn in.
Posted 10/14/2011 12:44 AM
Jo:
Love this karla. Patterns is such a good collection. I read myself in this poem as well.
Posted 10/11/2011 02:23 PM
wendy morton:
I love all the details,the easy pace of the poem, the humor. A delight.
Posted 10/10/2011 03:05 PM
pwax:
Fun, with serious undertones. Thanks, Karla. Phyllis
Posted 10/10/2011 10:10 AM
Anjie:
Way to go, Karla! Flight Patterns is a wonderful collection. Love that part about the long term relationship with "dust and elbow macaroni."
Posted 10/10/2011 08:36 AM
ed werstein:
Great poem Karla! forty years as martyr, that describes a lot of our mothers.
Posted 10/10/2011 08:19 AM
Gary Busha:
Good to see this fine poem again.
Posted 10/10/2011 07:42 AM
dotief@comcast.net:
I love it! I can relate as I enjoy wonderful imagery--"isobars clinging to the back of her her arms like spider webs." Wonderful!
Posted 10/10/2011 07:36 AM