I watched him swing the axe in the sun,
split wood into fine and finer pieces,
the leaves like gold coins scattered at his feet,
his hair silvered, shining, a bright thing
that would catch a crow's eye, or a daughter's,
who had searched all her life for him. Raising
his arms over his head, swift he brought them
down, and the wood crackled and startled into air
like birds in sudden flight. Watching,
I learned the strength of him;
it frightened me, too, the power of him
who could make the quiet wood fly,
who could gather the flown and fallen wings
and turn them into flame.

From No Ordinary Place (forthcoming from Ronsdale Press in Spring 2012).
Used here with the author's permission.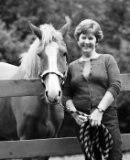 Pamela Porter lives on Vancouver Island with her husband, two children, and a menagerie of rescued horses, dogs, and cats, including a formerly wild mustang. The author of three poetry collections, Pamela won the 2005 Canadian Governor General's Award for her novel, The Crazy Man. In addition to teaching at colleges and universities in both the U.S. and Canada, Pamela has traveled extensively in Africa and South America to assist children in need through both her words and actions.
Karen Chester:
I can hear you reading this ... I feel it ... and am watching beside you.
Posted 10/24/2011 01:36 AM
Cynthia Woodman Kerkham:
"flown and fallen wings" for chopped wood. Exquisite! The awe and the fear, so beautifully rendered--so much going on in this treasure of a poem.
Posted 10/23/2011 04:34 PM
wendy morton:
An exquisite poem, as I have learned to expect from you.
Posted 10/23/2011 11:07 AM
Ginny C.:
So much packed into this shining little poem. Every word necessary, no word superfluous. Beautiful poem.
Posted 10/23/2011 10:14 AM
Gail Goepfert:
Simply beautiful!
Posted 10/23/2011 09:06 AM
Babystub:
Your artistry and word usage tells a wonderful fragment of life. Outstanding and makes me yearn for more... great poem!
Posted 10/23/2011 08:37 AM
dotief@comcast.net:
What a tribute to a father! Very nice!
Posted 10/23/2011 08:31 AM
mimi:
a bright and shining poem, Pam. absolutely lovely...
Posted 10/23/2011 08:09 AM
Donal Mahoney:
A magnificent poem from the first word to the last.
Posted 10/23/2011 07:31 AM
LindaCrosfield:
Beautiful images, Pam. "Gold coins scattered at his feet", "swift he brought them/down" — lovely turns of phrase. I love the mysterious daughter's appearance. Good one!
Posted 10/23/2011 04:07 AM