I wonder how they feel
those children who come home to find
a sign that says
Slow Children At Play
sprouted in front of their house.

I grew up in a time before
self-esteem,†
before every Little League kid†
was trophied just for showing up
and know my arch-nemesis
of a junior high gym teacher
would have gleefully planted such a sign
in front of my house†
to further mock my†
hormone-ravaged coordination.

He would have unveiled a sign
in front of the homes of each of my fellow
"Slow Boy Relay Team" members,
holding press conferences to recount with relish
a litany of incidents demonstrating†
our appalling lack of athleticism.

And had we slow boys had access to such signs,
each of us, clinging desperately†
to our lower rungs†
on the adolescent ladder of brutality†
would have planted them†
up and down Crescent Road,
which for whatever reason†
seemed to have more than its share of†
a different kind of†
Slow Children At Play.
From The Secret History of New Jersey (Northwind Publishing, 2009)
Used here with the authorís permission.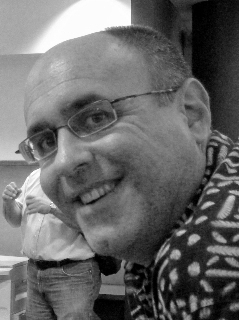 Tony Gruenewald was born in Manhattan, but grew up in the shadow of the water tower of the Edison Ford Assembly Plant in New Jersey. He has worked as a fast food fish fryer, on a loading dock, in broadcast journalism, and as an advertising copywriter. He currently works for the nonprofit Learning Ally and is pursuing a Masters of Library and Information Science at Rutgers University.†Tony is the author of†The Secret History of New Jersey (Northwind, 2009) and his poems have appeared in The New York Times, Adbusters, Exit 13, Slow Trains, U.S. 1 Worksheets and Edison Literary Review. Learn more at www.tonygruenewald.com.
†
†
dotief@comcast.net:
Love it! I feel the pain!
Posted 10/24/2011 08:44 AM
nscott29@aol.com:
You nailed it again, Tony. I will never read one of those signs without thinking of you.
Posted 10/24/2011 08:22 AM