I never noticed this tree before.
Was it always here?
Look how huge it is. Even the upper
branches are as thick around as grown
men, strongmen in a circus with thigh-thick arms
holding up the canopy. You can't
miss this tree and yet
I think I have been missing it everyday
for years, driving past it on my way to work
without seeing it. Now my car is
running quietly over there where
I pulled over because this tree
was standing here where I never
saw it. I see it now though. I see it all
now—how I couldn't see before because
of the understory, all those stories I was telling myself
were true, all the grasping and the wanting
and the dying. But now I think
there must have been something dead inside of me
if I couldn't see this tree. It's so
beautiful I want to die. I want to
live differently. I want to take this tree
back to my car, back into my life, keep it
always in view. But of course that's impossible.
That would be as impossible as this tree itself
being here and yet not being here.
Which is why I can't stop staring at it.




© by Paul Hostovsky.
Used with the author's permission.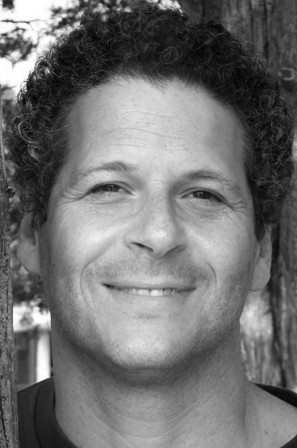 When he's not writing award-winning poems, Bostonian Paul Hostovsky makes his living as a sign language interpreter at the Massachusetts Commission for the Deaf and Hard of Hearing. He is the author of five chapbooks and three full-length poetry collections: Bending the Notes (2008), Dear Truth (2009), and A Little in Love a Lot (2011). To read more of Paul's work, visit www.paulhostovsky.com.
69Dorcas:
A lovely awakening. I have felt like that upon meditating and ponder a creation. Thanks for sharing. That is what a poet is supposed to do. Show us a different aspect of the natural.
Posted 10/26/2011 05:09 PM
transitions:
An epiphany for you - what a blessing. Thanks for sharing it with us. One day we hope to share ours with you. Judy
Posted 10/25/2011 11:08 AM
mimi:
yes, so very true...we need to open our eyes, be here now!
Posted 10/25/2011 09:47 AM
jeanie:
pretty sweet! i love the line "I want to take this tree back to my car"
Posted 10/25/2011 07:26 AM
dotief@comcast.net:
Our busy lives do make us live like zombies, the unseeing dead. Great poem to illustrate that fact!
Posted 10/25/2011 06:49 AM
LisaV:
What a lovely poem. I know that feeling of wanting to take the tree (or some other mind-blowing element in nature) home. Thank you, Paul, for the way you said it.
Posted 10/25/2011 06:21 AM