The moon shimmers in green water.
White herons fly through the moonlight.

The young man hears a girl gathering water-chestnuts:
into the night, singing, they paddle home together.


This poem is in the public domain.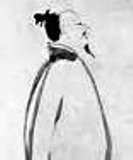 Li Po (702-761) is one of China's best known poets.  Also known as Li Bai, this wealthy scholar produced an abundance of work praised for its imagination, imagery, and celebration of simple subject matter.  Beloved by rich and poor alike, Li Po spent most of his life traveling around his home country. Generous with his wealth and fond of a good time, Li Po was alternately favored and imprisoned by Chinese royalty. His nickname, "the poem god," came from his alleged ability to produce beautiful poetry quickly and effortlessly. More than a thousand of his poems are still around for us to read and enjoy.
KevinArnold:
Katrina's comment is very funny. Indeed, a fine poem.
Posted 10/26/2011 11:39 AM
dotief@comcast.net:
I am once again blown away by the profound simplicity of a few well wrought images. What a story they tell!
Posted 10/26/2011 07:44 AM