One year, I tried planting
a row of confidence
in the stunning earthy wealth
from the last year's kitchen

Dreamed of a sauté,
with garlic and a dash of
organically-neglected je ne sais quoi,
a hearty side dish for the
psyches of daughters three


But one night, when the
silence of the owl was deafening,
and the star songs
unbearably beautiful,
nefarious garden warriors
stormed the chicken wire citadel
and feasted
So all I had to show for that season
was a stunning crop of tomatoes,
platoons of squash blossoms,
vampire radishes,
and a garden full of
dauntless rodents
Copyright 2009 by Katrin Talbot.
Used with the author's permission.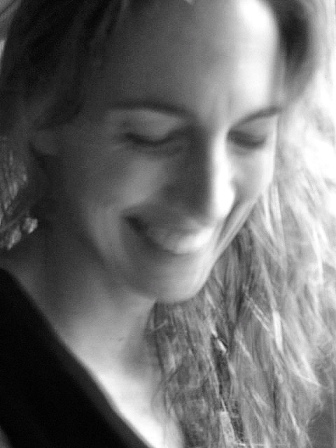 Australian-born Katrin Talbot is a violist, photographer, and poet, whose collection noun'd, verb was recently released from dancing girl press. Katrin's first collection of photos and poems, In Which Miss Mabelline Is Introduced to the Honorable Dr. Suzuki, was commissioned by the Suzuki Strings of Madison; she has two other chapbooks, including Freeze-Dried Love from Finishing Line Press, and St. Cecilia's Daze, published by Parallel Press. A photo essay of Schubert's Winterreise was published as a coffee table book and cd by the University of Wisconsin Press. Meanwhile, a song cycle based on her poetry will be premiered in Toronto later this year. Katrin was Poet-in-Residence for Sound Ensemble Wisconsin last season, was a finalist in 2009 for four national poetry prizes—one of which awarded enough prize money to fund a dairy queen run—and she has two Pushcart prize nominations sewn into her bomber jacket.
Katrina:
I love the understated sophistication of this poem; I shall seek out more works by the same poet. Thank you Katrin.
Posted 08/19/2014 05:23 AM
chris schulz:
After reading this, I just had to write a garden poem! Love the squash blossoms that survived the rodent feast.
Posted 08/18/2014 10:51 AM
anne.lehman2929@att.net:
This is a wonderful metaphor for life as we try to be optimistic among the "dauntless rodents."
Posted 08/18/2014 09:35 AM
Marilyn L Taylor:
Wonderful, Katrin! So glad to see this lovely poem. Your recipes are sure to succeed!
Posted 08/18/2014 08:37 AM
mimi:
a dauntless and stunning poem!
Posted 08/18/2014 07:58 AM
Ross Kightly:
I LOVE 'dauntless rodents'! And all the rest of the imagery in this marvellously enjoyable and still more than slightly disturbing poem. Thanks to all concerned for bringing it to me!
Posted 08/18/2014 04:37 AM