Trees modestly undressing
in filtered liquid sunshine
spilling into green grass
turning it into straw.

October goes determined —
no way to hold her back
with cries or whispers, tethers,
blackmail she'd ignore .

One year, when she goes, I'm going to follow,
tickled by warm air,
crispy flowers , red-streaked sunsets
glorious mornings rich in promise.

One early November, hiding like a star,
I will follow her
to her secret hiding place,
hold my breath, on tiptoe, and stay.

She will not suspect my presence —
my escape from Winter's claws.
I will be nestled in majestic skies
too large for her to find me.

I hate to see October go.
Fifty times at least I've watched her escape,
but I am ready to follow now —
at least until the winter blows away.
© by Laine Sutton Johnson.
Used with the author's permission.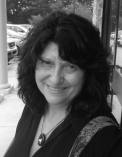 Laine Sutton Johnson is a retired high school drama and English teacher currently teaching musical theatre for NJ Arts in the Schools. Recipient of the1998 Governor's Award for Outstanding Speech and Theatre Teacher of the Year, she performs as well as teaches. Last year, Laine portrayed "Maggie" in the original Baroque musical "Cakes and Ale," at the Playwrights' Theatre in Madison. Laine lives in Hillsborough, New Jersey with her husband, Charles, who is also a poet. Aside from their pursuit of the arts, the Johnson's six grandchildren keep them quite busy.
transitions:
I hate to see her go as well; if I could fly I'd go with the geese who obviously 'know something'. Thanks, Laine, for a great poem. Judy
Posted 11/01/2011 09:50 AM