In autumn, I descended from Hillside Avenue
down Evergreen lined then from sidewalk
to the curb with maples. I, not an especially
triumphant boy, walked in triumph through
a processional of torches – fiery yellows,
shiny oranges, fierce reds – all lit up for me.

When the rains came, heavy leaves fell,
and my path was lined with gold like the streets
of heaven, but soggy. Home owners who didn't
sweep, possessed a sidewalk abstract etched
by leaf.
Brown November. Homeward in
the early dark, breathing the acid air
of burning leaves, nodding to the men who leaned
on iron-tined rakes, tending the smoky pyres.
From A Walk to the Center of Things (Poetry Center of San Jose).
Used here with the author's permission.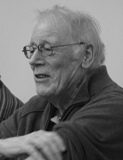 Nils Peterson is Professor Emeritus at San Jose State University where he taught in the English and Humanities Departments. Chosen as Santa Clara County's first Poet Laureate in 2009, Nils has published poetry, science fiction, and articles on subjects as diverse as golf and Shakespeare. In February of 2011, Poetry Center San Jose will publish a larger collection of his works called How Things Happen, as part of its Caesura Series. Learn more about him here.
Parthenia M. Hicks:
Really conjures the singular boy, walking home, taking in the world. Love Brown November.
Posted 11/02/2011 11:54 AM
anndeupree:
This poem resonates with me. I recall shuffling through the brittle colorful maple leaves on my way to school in Indiana. I feel gratitude for nudging my memory of October days in my childhood.
Posted 11/02/2011 09:56 AM
KevinArnold:
Yes, a wonderful poem. Bravo!
Posted 11/02/2011 09:12 AM
dotief@comcast.net:
Magical! As are the minds of little boys and poets.
Posted 11/02/2011 07:48 AM