This November Sawyer stands 
in a shower of leaves, first 
the ones falling, then those 
the blower sprays her with. Defiant, 
joyful, unafraid of noise 
or getting lost in any storm, 
she lies down, begs to be buried 
beneath the trappings of decay, 
oblivious to suggestion or symbol. 
It's so far she has come from three 
autumns ago, sitting in a backpack 
while I raked leaves into piles, 
or two years ago riding in the wheelbarrow
between dumping and filling up,
or even last year's first jumping
into massive piles of oak and maple.
And now, while she is unconcerned
with irony, I can't escape it myself,
such joy, such flouting in the face of death.
This poem first appeared in Innisfree Poetry Review.
Used here with the author's permission.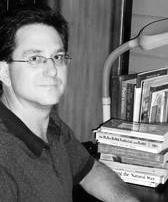 Scott Owens was born in Greenwood, SC, and grew up in poverty and abuse. He lives now in Hickory, NC, with his wife and three children, where he teaches at Catawba Valley Community College, edits "Wild Goose Poetry Review," coordinates the Poetry Hickory and Writers' Night Out poetry readings, and writes a weekly newspaper column on poetry. Author of six poetry collections, Scott's most recent book is Something Knows the Moment (Main Street Rag). The first in his family to graduate high school, he credits poetry with turning his life around. Learn more about Scott here.
Glen Sorestad:
A very moving poem to start my day. Thanks, Scott. I love the win perspectives unveiled, the ironic close.
Posted 11/03/2011 10:00 AM
KevinArnold:
Yes, flouting is just the right word, found in few poems. 'Such flouting in the face of death.' Yes, and the passage of time is handled well in this poem.
Posted 11/03/2011 09:40 AM
dotief@comcast.net:
Powerful!
Posted 11/03/2011 09:20 AM
karenpaulholmes:
A nice surprise to find a poem by Scott here this morning. He captures the moment and the way parents think.
Posted 11/03/2011 08:13 AM
LisaV:
What a great poem. Capturing two perspectives so eloquently: the child and the adult on a continuum. Thank you for this insight.
Posted 11/03/2011 06:29 AM