Stripped of ears, the stalks are holding green. 
The farmer walks his field. Invisible crows 
are screaming in his ears. Surely he knows 
that all he ever has is what is seen.

A shadow sweeps the field and circles back 
to its beginning in the woods The hawk 
returns to its empty limb. The farmer, awkward 
and on foot can only feel the lack

of lift beyond what can or cannot be— 
the swirling crows that vanish when he looks. 
A disarray of nerve. And fear. The hand that shook 
this morning when he tried to drink his tea.

This is his field, his hedgerow, fence and wood: 
He doesn't see regret. He wouldn't if he could.
This poem first appeared in Town Creek Poetry.
Used here with the author's permission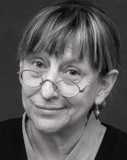 Phebe Davidson is the author of 23 published collections of poems. A retired English professor, she thinks of herself as a recovering academic. Still up to her neck in poems, she is the founding editor of Palanquin Press, a contributing editor for Tar River Poetry, and a staff writer for The Asheville Poetry Review. She also serves on the Board of Governors for the South Carolina Academy of Authors. Her poems and essays appear in print journals and on the web. She lives in Westminster, SC with her husband Steve and their cat Fripp.
The Surface of Things
by Phebe Davidson
Note on Demographics
by Phebe Davidson
Conversations with the World: American Women Poets and Thier Work
by Phebe Davidson
LindaCrosfield:
I'm at a writing retreat this weekend and what a lovely poem to discover this morning. Wonderful use of rhyme in this sonnet. Love the poignancy of "The hand that shook/this morning when he tried to drink his tea". Year's end, life's end—both are beautifully rendered here.
Posted 11/05/2011 11:59 AM
Devon:
Lovely, lovely, lovely.
Posted 11/05/2011 11:02 AM
Ginny C.:
This poem suits the feeling of November very well. The poet is well in control of her craft. I'd like to see more by this wonderful writer.
Posted 11/05/2011 10:30 AM
tannerlynne:
OH my sucha powerful poem. It touches me right were I am.
Posted 11/05/2011 08:33 AM
KevinArnold:
A powerful poem for the penultimate month. The acceptance of being near the end infuses this poem.
Posted 11/05/2011 08:29 AM
Donal Mahoney:
A wonderful poem that reads as if it were easy to write. In my ignorance, I was unaware of Phebe Davidson. Somehow the missing "o" in Phebe found its way into her byline in this poem. As someone who lacks a "d" on the end of his "Donal," I imagine over the years something like this has happened before. So much is said about the condition of man in so few words that run like an uninterrupted rivulet. A wonderful writer, a magnificent poem.
Posted 11/05/2011 07:12 AM
Gary Busha:
A fine poem by a poet who is well in control of word choice, tone, and language.
Posted 11/05/2011 05:20 AM