Water, bone, bed, bedrock –
whatever is underneath, below what's below.
Sudden touchable quiet, shadow
of a shadow. Weather. Sadness turning
ordinary. Nameless illness coming on.
A knock at the door so gentle
it could be anything. Distance.
The just thing not said, or said too late
or said exactly and without mercy.
Wind rising. Whatever might rise.
This poem first appeared in Ploughshares and, later, in As If Gravity Were a Theory (Cider Press, 2006).
Used here with the author's permission.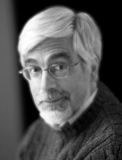 Don Colburn was born in Georgia, grew up in Massachusetts, and now lives in Portland, Oregon. A longtime newspaper reporter who didn't start writing poems until he was nearly 40, Don worked for The Washington Post and The Oregonian during the 33-year course of his newspaper career, and was a finalist for the Pulitzer Prize in feature writing. He has published three collections of poems, one of which won the Finishing Line Press Prize, and another won the Cider Press Review Book Award. Don's poems have appeared in anthologies and many magazines and he is a board member of Friends of William Stafford. Learn more about him at www.doncolburn.net.
wendy morton:
The clean bones of this poem. Ah.
Posted 11/06/2011 11:23 AM
Jo:
I sit with your poem and ponder the possibilities. Thank you for the space to reflect.
Posted 11/06/2011 10:16 AM
Margaret Chula:
This poem is about acceptance: weather, illness, possibility. Great sounds and succinct language. Beautiful, Don!
Posted 11/06/2011 10:07 AM
Glen Sorestad:
I just love "A knock on the door so gentle/it could be anything." Beautifully rife with possibilities.
Posted 11/06/2011 09:11 AM
phebe.davidson@gmail.com:
This is a gorgeous poem & gorgeously rendered!
Posted 11/06/2011 08:17 AM
Janet Leahy:
So much mystery in this poem, like life, that fear of a "nameless illness coming on" poem holds the "touchable quiet." Thanks, Don
Posted 11/06/2011 07:32 AM