Our stallion's soft breath
waffles love in my ear.
His powerful hooves and
body magnificently still,
he offers comfort in strength.

A phone message from my
88-year-old artist mother,
Did you see the sunset
tonight? It was wondrous, such
splendid purples and fuschias.

Standing knee-deep in russet
leaves shed by our proud oak
I gaze up at twisted limbs that
continue to reach for the clouds,
still beautiful . . . aging well.
From Celebrating the Heart-land (Jericho Productions, 2009).
Used with the author's permission.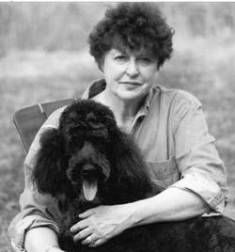 Linda Lee (Konichek) is a textbook author, entrepreneur, and former teacher who has always loved poetry, horses, and Wisconsin--not necessarily in that order. For the past twenty-five years, she has raised Morab horses (a cross between Morgans and Arabians) on a 114-acre farm in Eagle, Wisconsin; her poems tend to reflect the every day miracles that surround her there. Learn more about Linda at www.jerichocreekfarms.com.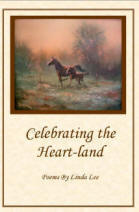 Gail Hallen:
I can see it, smell it, touch it, feel it -- your poetry is alive! Thank you. Gail (Tucson, AZ)
Posted 11/13/2011 12:41 PM
transitions:
a celebration of love - thank you for a lovely work of art, Linda. Judy
Posted 11/10/2011 11:45 AM
Kay Sanders:
Somehow, Linda, you've brought the horse, your aging mother, the towering, twisted limbs of the oak all together as one,reaching, still reaching for those clouds. Beautiful.
Posted 11/10/2011 06:10 AM
69Dorcas:
I love horses. Thanks.
Posted 11/09/2011 11:07 PM
Jo:
Linda, This a beautiful poem with a peacefulness about it that is a joy in itself. Thank you once again.
Posted 11/09/2011 08:17 PM
Anjie:
Linda, This is LOVELY. I love that last line, it is priceless. Anjie
Posted 11/09/2011 12:07 PM
KevinArnold:
Very well done. Bravo!
Posted 11/09/2011 11:01 AM
mimi:
yes, yes, yes--poignant, yet says it all... Sharon Auberle
Posted 11/09/2011 08:10 AM
dotief@comcast.net:
What a lovely experience! Thanks for sharing it in this lovely poem!
Posted 11/09/2011 07:56 AM