Their faces looked cold in black and white
their staged earnestness always made me smile
it was fun watching the choreographed sword fight
and we were all friends for a little while.

And then it occurred to me, they were all dead
the movie was made more than sixty years ago
the only way they came alive was in my head
captured forever in an old picture show.

What were they thinking when they went through their paces
laughing and crying, fighting and dying on the silver screen
the gamut of emotions acted out on their black and white faces
and the moral of life's story played out in each scene.

When the movie is over and the film is rewound
so that slice of their life can again be shown
in all its grainy glory and tinny sound
to remind me that my own life has flown.
© by Christopher J. Roe.
Used with the author's permission.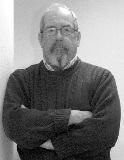 Chris Roe has been painting for over forty years and writing (seriously) for five. He studied art and graphic design briefly at the School of the Museum of Fine Art in Boston, spent a semester at the University of Louisville in Kentucky, and four years at the University of Massachusetts/Dartmouth. After an award-winning forty-four year career in advertising as an art director and graphic designer, Chris retired to pursue art and writing full time. He has thus far written twelve volumes of poetry and a memoir, and his paintings are in private collections across the United States, Canada, and Europe.
rcstewart3:
I've had the same thoughts, frequently. Thanks for writing yours in poetry!
Posted 11/11/2011 08:48 AM
dotief@comcast.net:
Love this poem! Movies are such wonderful "slices" of life, and I suppose that so long as we watch them, these guys never will die. Makes me get all "quantum" inside my heart and head.
Posted 11/10/2011 08:41 AM