The air hummed with promise—unexpected
in those troubled times. Hot cider spiced
its way through the crowded room
and tins of homemade cookies sparkled
in the hands of children.

The scent of cut pine met
the draft of ozoned cold each time
the basement door swung open
into the small candlelit church.

Toward the end of Mass, the young priest asked
for a volunteer to lead us in a last song.
No one moved. Weary of such efforts,
our pockets and faith were on empty.
Finally, a boy of ten walked to the altar
and began singing Let there be peace on earth . . .
His high-pitched voice, unsteady at first, grew
into the strength of the music while we grew
into his.

One by one we stood, reaching out to strangers,
and when the last note ended, we remainded still.

Forty years later, I watch white flakes spark
the cobalt sky and the memory of that long ago
song flickers and catches fire. Looking out into the glow
of stars, the pillowed accumulation,
I hear the peace song weave through the white
screen of night, the voice of the child,
and despite the weight of the snow-heavy world,
I remember—let it begin with me.
© by Mary Jo Balistreri.
Used with the author's permission.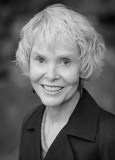 Mary Jo Balistreri spent most of her life in music, performing as a concert pianist and harpsichordist, and teaching private lessons. When her grandson died in 2005, she turned to the music of words, not only to transcend grief, but to give witness to the life of this child.
Since then, Mary Jo spends as many hours writing as she once did practicing. Her uplifting, joyous poetry has been published in numerous journals and she was nominated for a Pushcart Prize in 2006. Today, poetry is her life-affirming passion, her way of living and feeling life. Learn more about Mary Jo at www.maryjobalistreripoet.com.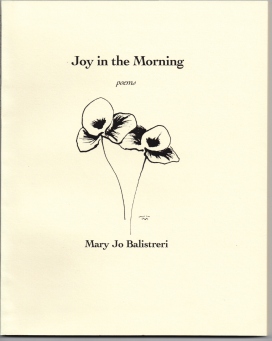 Carol Janc:
What an absolute perfect little story! CJanc
Posted 11/16/2011 02:46 PM
jhoward:
Exquisitely poignant and touching all the senses with warmth and hope - Thank you, Mary Jo!
Posted 11/15/2011 04:06 PM
Abigail Juhlmann:
This was absolutely beautiful. The words came to life before me and still linger now. I feel them everywhere...in this room and inside me.
Posted 11/13/2011 01:49 PM
Linda Lee (Konichek):
Music flows through Mary Jo's poetry, as it does through her! I am always uplifted by her skill with details and images that stay in my mind. A perfect way to start thinking about what really matters at this time of year!
Posted 11/12/2011 10:38 PM
Patt Clark:
As I read the poem, I felt as though I were floating on the tide. The images of air humming with promise and the scent of cut pine fill my own air space. Only we can make a difference. Thanks, Mary Jo!
Posted 11/12/2011 02:27 PM
kcooper5:
With every word, I am transported to a whole new world. The words fade and I am there. I feel the cold, sharp wind, smell the fresh pine, taste the cinnamon in the cider, hear that wobbly little voice and feel the heavy, warm blanket of peace surround me. You are soooo gifted!!!!
Posted 11/11/2011 06:08 PM
Anjie:
Jo, I'm so glad the world gets to see this poem today. This is just one of those poems that the world truly needs. My favorite part: I watch white flakes spark the cobalt sky and the memory of that long ago song flickers and catches fire.
Posted 11/11/2011 01:44 PM
Donna Pflueger:
Oh, Jo! Your line that ends with "...unsteady at first, grew into the strength of the music while we grew into his..." is so wonderfully conveyed, it is almost physical. I will carry your poem with me through this holiday season and I thank you for this unexpected gift.
Posted 11/11/2011 01:18 PM
transitions:
He said "a little child will lead us", and he does again in this beautiful poem of faith -. Thank you, Jo, for the reminder, in these difficult days, to "believe"... God bless. Judy
Posted 11/11/2011 12:08 PM
Janet Leahy:
You set the scene beautifully as your poem unfolds, I can hear the music.
Posted 11/11/2011 10:05 AM
Gail Goepfert:
Jo, between your lovely words and the stunningly beautiful depiction of the moment and Jayne's words about our times and the holidays we face, I am certainly given pause to reflect. Thank you!
Posted 11/11/2011 08:48 AM
KevinArnold:
While she only quotes five words, this poem builds so skillfully on the shoulders of the Sy Miller Jill Jackson lyrics that the poem is fully infused with the the song.
Posted 11/11/2011 08:04 AM
Kay Sanders:
The sum of this poem is much greater than its parts--strong and beautiful as those parts are. Thank you, Jo.
Posted 11/11/2011 07:23 AM