I like it
that my plush-lawned neighbors
can see the 1963 Chevy Corvair
resting on its side
in my yard.
Across the driveway
the cracked full-length mirror reflects
its missing muffler,
its rusting tailpipe.
I throw bottles in between them.
Pieces of brown,
and green glass.
Inorganic garden.
This poem recently won an honorable mention in a competition sponsored by the New Hampshire Poetry Society.
Used here with the author's permission.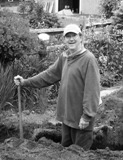 Robert Manchester lives in New Hampshire, surrounded by leafy trees, stone walls, memories of Robert Frost, and lots of living poetry legends. He's been writing and publishing poems for 50+ years, but quite prefers writing to submitting, so seldom gets around to the latter. Robert confesses that he likes to write edgy poems about the "underbelly of life--the junk cars, tumbledown trailers, goat pens in the front yard, and the like," though he also likes haiku and, of late, is experimenting with syllable and meter.
Jo:
I like this poem and didn't think I would. Exploring the "underbelly" --TY
Posted 11/16/2011 12:40 PM
lincolnhartford:
Thanks for the break from pretty poems. Think I will consider some local possibilities. Lincoln
Posted 11/16/2011 08:37 AM
KevinArnold:
Somehow this fits with the occupy movement; a habitat's desire to say the opposite of what a manicured suburb says, that something is rotten in the state of Denmark.
Posted 11/16/2011 08:32 AM