†
It is the end
of my first day
without a cigarette
and Iíve come here
to breathe
the ocean air, feel
my lungs fill with life
instead of smoke and,
at Asbury Park,
swear to myself
I will never again
inhale what subtracts
even one future chance
to walk this beach,
see these waves,
and feel my heart beat
to the music
of this boardwalk
carousel turning
like the earth
where tonight
I live.
© by Edwin Romond.
Used with the authorís permission.

November 17th is the Great American Smokeout.†
Tobacco use remains the single largest preventable cause of disease and premature death in the US, yet more than 46 million Americans still smoke.†
Find out how you can support this effort at †http://www.cancer.org/Healthy/StayAwayfromTobacco/GreatAmericanSmokeout/.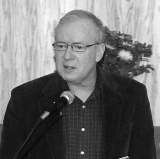 Edwin Romond is a poet, playwright, composer, and educator. Now retired, he taught English for more than 30 years in Wisconsin and New Jersey. Edwin's award-winning work has appeared in numerous literary journals, college text books and anthologies, and has been featured on National Public Radio. He maintains an active schedule of readings and presentations; check www.edwinromond.com to see if he's appearing anywhere in your area. A native of Woodbridge, New Jersey, Edwin now lives in Wind Gap, Pennsylvania, with his wife and son.



KevinArnold:
Powerfully life-affirming.
Posted 11/17/2011 10:18 AM
loisflmom:
I also was a smoker, and quitting was the hardest thing I ever did! As former Jersey shore resident, I never got to smell Asbury Park's ocean without smoke in my lungs, but am now enjoying the wonderful scent of Sarasota's beach smoke-free!!
Posted 11/17/2011 09:31 AM
dotief@comcast.net:
Wow! I love this poem! I too was once a smoker, and I realize that now I have quit, I can really enjoy the ocean air. I love Edwin's contrasting of ocean air to cigarette smoke. Just goes to show what an addiction will make you believe.
Posted 11/17/2011 07:40 AM
Tony G:
As I have come to expect from Ed Romond, an poem that is both elegant and moving.
Posted 11/17/2011 06:57 AM
Eiken:
Yes to stopping smoking, wonderful, well done:)))
Posted 11/17/2011 06:20 AM
Contents of this web site and all original text and images therein are copyright © by Your Daily Poem. All rights reserved.
As an Amazon Associate I earn from qualifying purchases. Purchasing books through any poet's Amazon links helps to support Your Daily Poem.
The material on this site may not be copied, reproduced, downloaded, distributed, transmitted, stored, altered, adapted,
or otherwise used in any way without the express written permission of the owner.