Lately, I have been
listening to people
and places
people sound like
words and laughter
sneezes and song
places sound like
the hissy fit of the wind
and the fender bending
clash of traffic or
the shriek of cloud
busting jets
and sometimes
I just sit back
and listen to myself
travel through time
like an HG Wells
character
in this soft
in the middle
machine
and I swear
I sound
like a one-monk chant
in a temple
of wonder and doom
© by Ivan Jenson.
Used with the author's permission.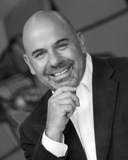 Ivan Jenson is an artist and writer who lives in Grand Rapids, Michigan. His poems have appeared in numerous publications and his artwork has appeared in national magazines and ad campaigns and been sold at Christie's, New York. Ivan enjoys reading, running, and walking his dogs. He paints with lots of color, and works on his poetry and novels in coffee shops while listening to electronica, R and B, or dance music. Learn more about Ivan at www.ivanjensonartist.com.
leslieelizabeth:
this jump started my own writing day. Love it.
Posted 11/18/2011 09:47 AM
dotief@comcast.net:
I love the lines "a one-monk chant/in a temple/of wonder and doom." Ain't it the truth?!?
Posted 11/18/2011 07:53 AM
Gail Goepfert:
One-monk chant. Love that line and the hissy fit, too!
Posted 11/18/2011 07:21 AM
Rob:
So many cool parts. Perhaps the first time I've ever seen the word "hissy fit" used in any poem anywhere!
Posted 11/18/2011 07:07 AM
LisaV:
What a great poem. I especially like the last four lines. Thanks, Ivan.
Posted 11/18/2011 07:07 AM