It's all a farce,—these tales they tell
About the breezes sighing,
And moans astir o'er field and dell,
Because the year is dying.

Such principles are most absurd,—
I care not who first taught 'em;
There's nothing known to beast or bird
To make a solemn autumn.

In solemn times, when grief holds sway
With countenance distressing,
You'll note the more of black and gray
Will then be used in dressing.

Now purple tints are all around;
The sky is blue and mellow;
And e'en the grasses turn the ground
From modest green to yellow.

The seed burs all with laughter crack
On featherweed and jimson;
And leaves that should be dressed in black
Are all decked out in crimson.

A butterfly goes winging by;
A singing bird comes after;
And Nature, all from earth to sky,
Is bubbling o'er with laughter.

The ripples wimple on the rills,
Like sparkling little lasses;
The sunlight runs along the hills,
And laughs among the grasses.

The earth is just so full of fun
It really can't contain it;
And streams of mirth so freely run
The heavens seem to rain it.

Don't talk to me of solemn days
In autumn's time of splendor,
Because the sun shows fewer rays,
And these grow slant and slender.

Why, it's the climax of the year,—
The highest time of living!—
Till naturally its bursting cheer
Just melts into thanksgiving.

This poem is in the public domain.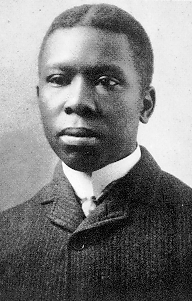 Paul Laurence Dunbar (1872-1906) was from Ohio. He wrote his first poem at the age of six, was editor of his high school newspaper, and published his first book at twenty. His writing attracted attention from the very beginning, and Paul became well-known in both America and around the world. Like James Whitcomb Riley, who was a fan of his young contemporary's work, Paul wrote many of his poems in dialect. Besides a dozen books of poetry, Paul wrote four short story collections, five novels, a play, and the first  Broadway musical ever written and performed by African-Americans. A tremendously successful poet whose work was being published in all the major literary publications of his day, Paul's life was cut tragically short by tuberculosis.
Linda Lee (Konichek):
I have loved Paul Laurence Dunbar's poetry since high school, but never realized how prolific he was. Love this poem and will now read some of his other work. Love this concept of Fall as the climax of the year!
Posted 11/22/2011 12:04 PM
dotief@comcast.net:
Paul Lawrence Dunbar is one of my favorite poets! I had not seen this poem, so thanks, Jayne for sharing it. It is another jewel!
Posted 11/22/2011 08:31 AM